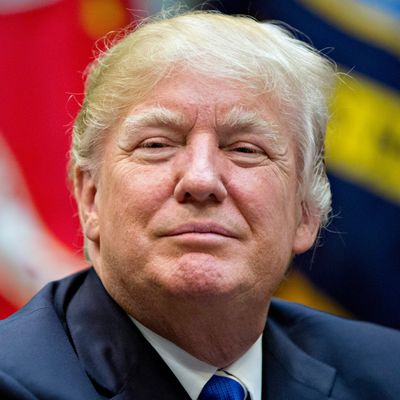 So earnest.
Photo: Andrew Harrer - Pool/Getty Images
"Let's say, hypothetically, something like this was said," former Trump aide Sam Nunberg told me. "In the context I know the president, he doesn't realize the implications of what he was doing or what he was saying or how it could be interpreted."
Nunberg was discussing the news that Donald Trump had possibly obstructed justice by asking FBI Director James Comey to stop his investigation into his national security adviser, Michael Flynn — just one of the many earth-shattering, axis-turning revelations about the administration to trickle out in the several days since Trump fired Comey.
An adviser to Trump in the years before he became president, Nunberg worked alongside him in his 26th-floor Trump Tower office to plan his hostile takeover of the American political system that few, at the time, thought was serious.
Now, observing the chaotic administration from the outside, he — like so many longtime Trump confidantes — sees a president he feels is being let down by his staff and misinterpreted by the world. To hear them tell it, Trump is just being himself, and the standards we're holding him to no longer apply to the leader of the free world. And to make matters worse, Trump — someone comforted by familiar faces and surroundings — has lost his bearings in Washington.
Nunberg suggested that, if what Comey's memo says is true, perhaps Trump had just misread their relationship. "I get the impression from the tone of this, from what Comey said in these memos, it sounded like he thought Comey was his friend," he said. "And I don't understand why he would think that."
"I think you can hear his earnestness in the alleged quotations," another former adviser to the president, who requested anonymity, said. "And you can hear in his voice that he's just being himself. If he did this, and I don't know that he did it, but if he did this, I'm certain it's just he didn't realize it. He wasn't thinking like a lawyer, you know? And I think he probably didn't realize he was doing anything wrong, if he did."
The former adviser added, "Donald Trump is very personable when you speak to him, especially when you're new to his circle. And I think he goes out of his way to make light of things in a way to try to get comfortable with the person he's speaking with, and this sounds like lighthearted banter."
Meanwhile Roger Stone, the OG Trump intimate and subject of the highly entertaining new Netflix documentary Get Me Roger Stone, told me he thought the notes Comey reportedly kept on his meetings with Trump were a farce.
"I just don't believe Comey. I think it's an obvious revenge play, classic Washington bureaucratic bullshit, the after-the-fact memo — classic," he said. On Infowars earlier this week, Stone suggested to host Alex Jones, a conspiracy theorist, that Comey could've written his notes the day the New York Times story came out.
Stone did acknowledge that Trump is loyal to Flynn, however. "I think he likes Flynn. I think he thinks Flynn is getting a raw deal," he said. He added that he doesn't believe Flynn did anything legally improper.
All old-school Trump aides share one opinion: that Trump is being screwed over by those surrounding him. Like any sidelined operatives, they believe they could do better.
"I don't think he realizes the implications of what he does sometimes and he's gonna have to be more careful and prudent," Nunberg said. "He's giving his enemies openings, everybody is out to get him. These are not his friends, these people."
For Trump to survive, Stone said he would have to "clean house and get some better people around him who could give him better advice." He specifically believes Trump needs to do away with Reince Priebus, and "anyone who worked for George W. Bush" and "anyone who worked for the Republican National Committee."
Nunberg was more circumspect. "I feel that the guy's under attack here, and I feel that the White House — Steve Bannon, Reince Priebus, Kellyanne [Conway], Sean Spicer — all have his best interest, they're all out to protect him, they're out to serve him well. But they're gonna need an older Washington hand in there sometime soon."
"He's being very poorly served," the former adviser added. "The president now feels that he can't trust anyone around him. And there is a focused effort to keep original Trump people from joining the White House. He's surrounded by people he doesn't know, under attack from all sides. You look for a familiar face, and there aren't any."
The adviser said a frequent question Trump used to ask those around him was, "Who do I believe?" The adviser said, "Oftentimes, when there's a firestorm around Donald Trump, one of the reasons he survives it is because people circle the wagons. Right now it feels like they're a little overcome by the the tenor of the attacks."