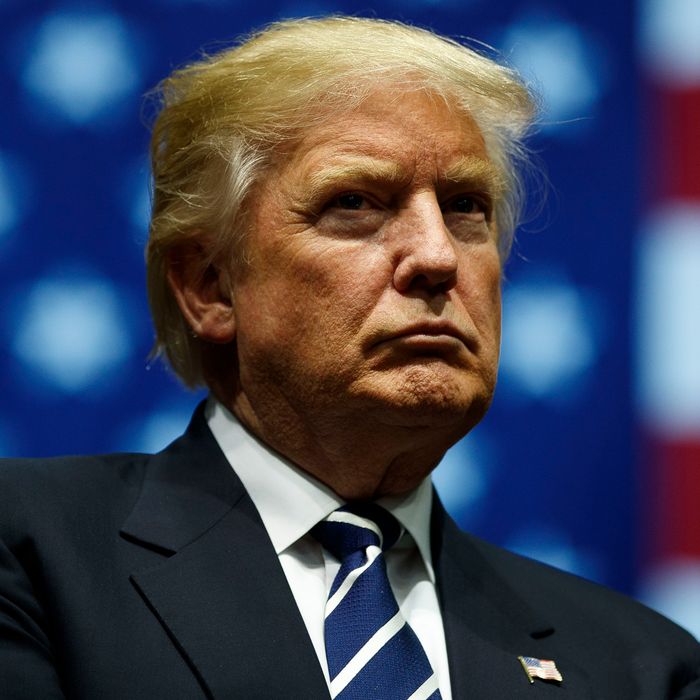 For it before he was against it.
Photo: Drew Angerer/Getty Images
Central to the White House's strategy for weathering scandal is the notion that leaks, information, and quotations from anonymous sources are not credible and shouldn't be taken seriously. But like so many aspects of the White House public-relations approach, this is undermined by President Donald Trump himself — an avid consumer of and distributor of mysterious rumors and innuendo.
Just this morning, in a classic series of stream-of-consciousness tweets, Trump said, "It is my opinion that many of the leaks coming out of the White House are fabricated lies made up by the #FakeNews media." He added, "Whenever you see the words 'sources say' in the fake news media, and they don't mention names …… it is very possible that those sources don't exist but are made up by fake news writers. #FakeNews is the enemy!"
This has become a familiar refrain for the president. In August, he attacked "the failing" New York Times for quoting "non-existent unnamed sources." In September, he said any reporting about him or his campaign using the phrase "sources said" should be dismissed. "DO NOT believe it. There are no sources, they are just made up lies!" he said. He's repeated the same line over and over since.
Never mind that the Trump White House — and previously the Trump campaign — frequently provides reporters with blind quotes and background information or briefings, meaning we can divulge what they tell us, but we can't divulge who told us. This practice is not unusual for a political or government entity, but it is hypocritical.
Moreover, when it comes to things he wants to be true, Trump's favorite sources have historically been people whom he never identifies. "Many people are saying" is a common phrase he uses.
In October 2012, amid his crusade to prove Barack Obama was not born in America and thus was not a credible president, he claimed, in a tweet: "Many people are saying that my challenge to Obama is having a huge negative effect on his poll numbers — I agree." (Nobody was saying this, and Obama won reelection).
In November of that year, he used similar sourcing to promote his own Twitter account. "Thanks — many are saying I'm the best 140 character writer in the world. It's easy when it's fun," he said.
And in December, he claimed that "people are calling in saying" Alan Sugar, an English businessman and politician whom he dubbed "dopey," was "being beaten badly w/ the tweets."
The following year, he reported that "sources inside" the office of New York Attorney General Eric Schneiderman, with whom he clashed over Trump University, "are saying that they are very concerned with the allegations against their lightweight boss."
In 2014, he said: "Crazy — Election officials saying that there is nothing stopping illegal immigrants from voting. This is very bad (unfair) for Republicans!"
The next year, he offered, "Everyone is saying the bad news is that Donald Trump is going to take credit & they are right — Mitt wouldn't have won anyway."
Another time, he said, "Now that the Mexican drug lord escaped from prison, everyone is saying that most of the cocaine etc. coming into the U.S. comes over the border!"
And then, he claimed, "Great, everyone is saying I did much better on @60Minutes last week than President Obama did tonight. I agree!"
When he was scheduled to appear on Saturday Night Live in 2015, he had this assertion: "They are saying that tickets to tonight's Saturday Night Live are the hardest to get in the history of this great show! Off to a good start!" (His love affair with the sketch-comedy program would not last long).
Not long after, he used a similar construction to add credibility to his ideas about restricting immigration: "Everyone is now saying how right I was with illegal immigration & the wall. After Paris, they're all on the bandwagon."
The presidential election brought yet more dubiously sourced assertions.
Following his defeat in the Iowa caucuses, he claimed that "experts" had been "saying" he "couldn't do well there," but he defied them by coming in second behind Ted Cruz. (They had been saying he might not win, which he didn't.)
And after a presidential debate, he said, "Well, now they're saying that I not only won the NBC Presidential Forum, but last night the big debate. Nice!"
Another time he alleged, "Many people are saying that the Iranians killed the scientist who helped the U.S. because of Hillary Clinton's hacked emails." (Clinton discussed the case of Shahram Amiri on her private server, which was never hacked; there was never any evidence that her emails, which were publicly released, in any way contributed to his execution.)
You get the sense, reading his various claims over the years, that perhaps he thinks so little of anonymously sourced information because the anonymously sourced information he uses is in fact sourced from his imagination. At least, that's what many people are saying.