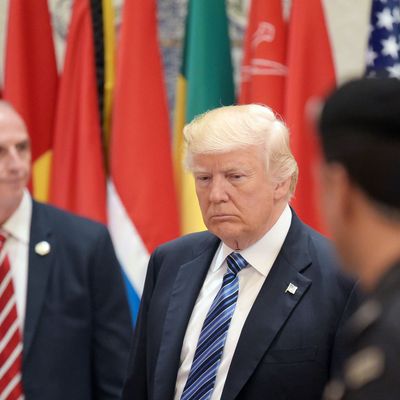 Trump, ahead of his speech in Saudi Arabia.
Photo: MANDEL NGAN/AFP/Getty Images
President Donald Trump delivered his first major speech on the world stage in Saudi Arabia on Sunday, a rallying cry to leaders in the Muslim world "to take the lead in combating radicalization."
"We must be united in pursuing the one goal that transcends every other consideration," Trump said to the more than 50 leaders gathered in the opulently decorated room. "That goal is to meet history's great test — to conquer extremism and vanquish the forces of terrorism."
This was the overarching vision a more subdued Trump laid out in his address: A battle of "good" — the U.S. and its partners — versus the "evil" terrorists, though he placed much of the burden in winning this war on the Muslim leaders listening intently in front of him. Trump tried to stress a message of unity and co-operation in the fight against terrorism, and parts of his speech struck a different tone than some of his past rhetoric. The president employed sweeping language and religious symbolism to help make his case.
"If we do not act against this organized terror, then we know what will happen. Terrorism's devastation of life will continue to spread," Trump intoned. "Peaceful societies will become engulfed by violence. And the futures of many generations will be sadly squandered."
Trump continued: "If we do not stand in uniform condemnation of this killing — then not only will we be judged by our people, not only will we be judged by history, but we will be judged by God.
"This is not a battle between different faiths, different sects, or different civilizations. This is a battle between barbaric criminals who seek to obliterate human life, and decent people of all religions who seek to protect it."
"This is a battle," Trump declared, "between good and evil.
Portions of the address — reportedly written by aide Stephen Miller, who helped craft the travel ban — leaked ahead of Trump's delivery. For the most part, the president carefully stuck to his prepared remarks — though he made a few detours.
Trump did not use the phrase "radical Islamic terrorism" in his address — though he had repeatedly accused Obama of failing to use that phrase during the campaign. In what did seem like a jab to the previous administration, Trump promised that the United States was not here to "lecture," but to offer its partnership in combating the scourge of extremist ideology and terrorism. And yet, Trump issued his own demands:
"It is a choice between two futures — and it is a choice America cannot make for you," Trump said in what was the most impassioned part of his entire address. "A better future is only possible if your nations drive out the terrorists and extremists. Drive. Them. Out."
"Drive them out of your places of worship. Drive them out of your communities. Drive them out of your holy lands. And drive them out of this Earth."
Indeed, Trump interpreted this "battle" in mostly literal terms. The use of force appeared to be the primary — if not the only — way to end terrorism, despite saying that America seeks "peace, not war." He repeated over and over again terrorism's threat to the future of the Middle East and its citizens, but largely ignored the root causes of why terrorist ideology managed to take hold, and why it continues to attract adherents.
Trump was mostly short on strategy to "defeat terrorism and send its wicked ideology into oblivion," though he called on Muslim countries to deny "territory to foot soldiers of evil" and access to funds. To this end, Trump announced two broad initiatives: the creation of the "groundbreaking" Global Center for Combating Extremist Ideology, to be based in Saudi Arabia, and, later, an agreement to form a Terrorist Financing Targeting Center that would be co-chaired by the United States and Saudi Arabia and include the six countries in the Gulf Cooperation Council. "It is another historic step in a day that will be long remembered," Trump said.
Trump also used his platform to condemn Iran, a direct denunciation that was eagerly welcomed by the president's Saudi hosts, who considered Obama's approach toward their regional enemy too conciliatory. "For decades, Iran has fueled the fires of sectarian conflict and terror," Trump said, "It is a government that speaks openly of mass murder, vowing the destruction of Israel, death to America, and ruin for many leaders and nations in this room." Trump also criticized Iran for its "destabilizing interventions in Syria," though he noticeably failed to mention the other key destabilizing force: Russia.
Trump concluded his 34-minute speech with a flourish, thanking King Salman bin Abdulaziz of Saudi Arabia for the "creation of this great moment in history" and promising his audience that the Middle East — what he called "the birthplace of civilization" — is waiting "to begin a new renaissance." He concluded with a final call for unity.
The much-anticipated speech in Riyadh capped off Trump's Saudi Arabia visit, where he received a red-carpet welcome, inked a multibillion arms deal, and met one-on-one with regional leaders before Sunday's summit. And after his speech, Trump helped inaugurate that Global Center for Combating Extremist Ideology in Riyadh with King Salman and Egyptian president Abdel Fatah al-Sissi. Which looks like this:
The leaders officially christened the center by putting their hands on a giant, glowing Earth orb. Really:
Trump was supposed to conclude his trip in Riyadh at a social-media summit with young Saudis, but he canceled his appearance, and his daughter Ivanka stood in for her dad.
Trump will now head to Israel to continue promoting his message of co-operation. But it may be hard to top the summit, which Trump called in his speech "this special gathering" that "may be remembered as the beginning of peace in the Middle East, and maybe all over the world."
This post has been updated throughout.