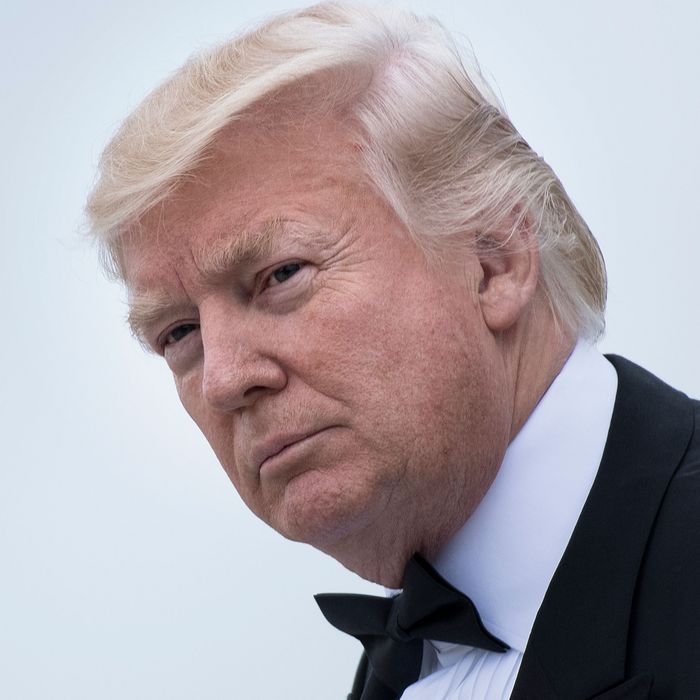 Donald Trump.
Photo: Brendan Smialowski/AFP/Getty Images
As president, Donald Trump now has two accounts (@POTUS and @realDONALDTRUMP) from which he might philosophize — and yet it seems that people are starting to care less and less. According to data analysis earlier this spring conducted by the Associated Press, engagement on Trump's tweets has been trending downward since he took office in January.
With a few inflammatory exceptions — Trump's March accusations that Obama had wiretapped him prior to the election — likes, retweets, and quote-tweets have all dropped by the thousands over the last 100 days. While a tweet from January 24 saw 4,000 retweets, tweets from the end of April were getting half that, AP reports. These numbers were culled using data from 495 tweets from Trump's personal account only. Unsurprisingly, men were found to be more likely than women to retweet Trump, and tweets with terms like "Russia" or "fake news" prompt the most engagement. "About 96 percent of those who simply retweet the president's words are right-leaning, according to the analysis, while about 54 percent of his replies come from left-leaning users," AP also notes.
Donald Trump's most retweeted tweet as president clocks in at 82,000 shares. For comparison, Barack Obama's broke the 900,000 mark. Though we all remember what happened when people compared Trump's inauguration crowd size to Obama's much larger crowd.