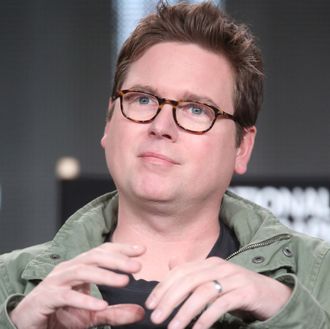 Biz Stone.
Photo: Frederick M. Brown/Getty Images
Twitter co-founder Biz Stone is headed back to Twitter. He left the company back in 2011, after working there for six years. According to a Medium post — "What's Happening With Me" — from Stone earlier on Tuesday, he'll be working full time at the company, though it's a little hazy what exactly that full-time position will actually entail.
From Medium:
My top focus will be to guide the company culture, that energy, that feeling. This is where Jack, and Twitter's inestimable CMO, Leslie Berland, feel I can have the most powerful impact. It's important that everyone understands the whole story of Twitter and each of our roles in that story. I'll shape the experience internally so it's also felt outside the company.
Prior to the announcement, Pinterest acquired Stone's crowdsourced Q&A start-up, Jelly, in March. Back then, it was reported that Stone would still be working with Jelly, just under the Pinterest umbrella. Based on Stone's Medium update, it seems like this won't be the case; instead, Stone will be focusing all of his energies on Twitter. His return, according to the post, came after Stone spoke at a Friday-afternoon tea — a relaunched Twitter tradition of yore — and Twitter CEO Jack Dorsey invited him to come back to the company. Stone says he's not replacing anybody or filling a vacant role. "Somebody mentioned I'm just filling the 'Biz shaped hole' I left," Stone explained. "You might even say the job description includes being Biz Stone."