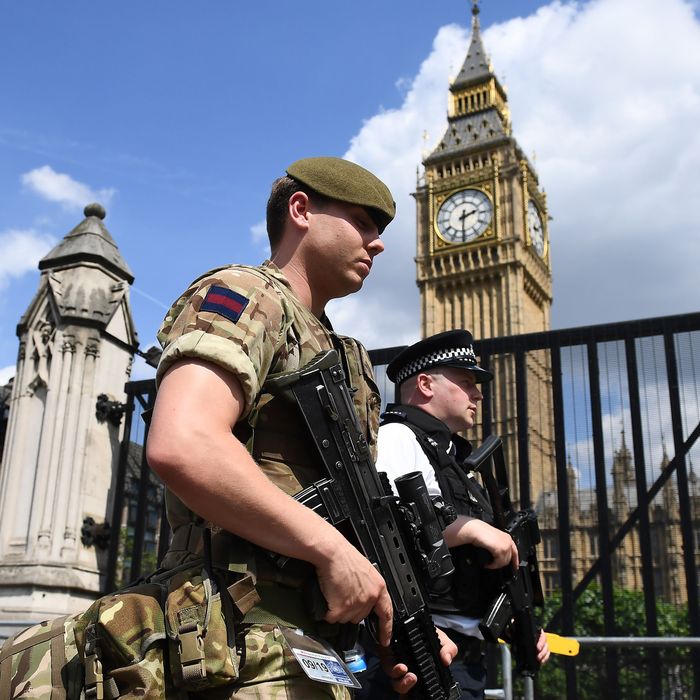 A British Army soldier patrols with an armed police officer near the Houses of Parliament in central London on May 24, 2017.
Photo: JUSTIN TALLIS/AFP/Getty Images
President Donald Trump has ordered the Justice Department to probe the alleged U.S. law enforcement leaks related to the Manchester bombing investigation. These leaks, including crime-scene photos published in the New York Times, have reportedly angered British police so much that officials have halted sharing any more Manchester intel with their American counterparts, and have forced British prime minister Theresa May to raise the issue directly with Trump during the NATO summit in Brussels on Thursday.

But now Trump says his administration is taking action. "The alleged leaks coming out of the government are deeply troubling, Trump said in a statement about the inquiry, adding that "if appropriate, the culprit should be prosecuted to the fullest extent of the law."
Trump, in many a tweetstorm, has slammed leakers since taking office — though the president himself has contributed to recent concerns that the U.S. might be careless with other countries' secrets after he allegedly shared Israeli intel with with Russian officials. But ire among British officials Britain reportedly grew after the Times published photos on Wednesday of what appeared to be the remnants of the bomb that was set off by a suicide bomber in Manchester, England, this week, killing 22 people. The paper identified them as "law enforcement images" that were "distributed by British authorities," but did not specify exactly how they were obtained.
The BBC reported that British police are "furious" because they believe the photos were leaked by U.S. law enforcement, and they've stopped sharing information with the U.S. One U.K. official said the leaks were "on another level" and had caused "disbelief and astonishment" throughout the British government.

U.S. officials had already been accused of reveling details like the number of casualties and the identity of bomber Salman Abedi. British Home Secretary Amber Rudd said she was "irritated" that Abedi's name was made public, and had warned Washington that "it should not happen again." There were concerns that the leaks may have hampered efforts to track down Abedi's possible accomplices, and determine how he obtained the bomb.
The nations regularly share information as part of the Five Eyes intelligence-sharing agreement. Manchester police reportedly hope to continue sharing information with the U.S. soon.
"We greatly value the important relationships we have with our trusted intelligence, law enforcement and security partners around the world," the National Counter Terrorism Policing unit of Britain's National Police Chiefs Council said in a statement. "When that trust is breached it undermines these relationships, and undermines our investigations and the confidence of victims, witnesses and their families.
"This damage is even greater when it involves unauthorized disclosure of potential evidence in the middle of a major counter terrorism investigation,"
British prime minister Theresa May was expected to raise the issue with Trump during Thursday's NATO summit. "I will make clear to President Trump that intelligence that is shared between our law enforcement agencies must remain secure," May assured the public in a statement ahead of her trip to Brussels.
Last week Trump shared classified Israeli intelligence with Russian officials, and Israeli defense chief Avigdor Liberman suggested on Wednesday that Israel has changed how it shares information with the U.S. as a result.
The British believe the Manchester intelligence was leaked by U.S. law enforcement, not the intelligence agencies, and they suggested Americans have an intelligence-sharing problem that predates the Trump administration.
"They don't understand the complexities of just blurting it out, and the reasons not to. They just think, Oh, I've got something to say, for their own personal aggrandizement quite often," a former British intelligence chief told Newsweek.
The official added that while the British are "pretty disciplined," American officials "just blabbermouth it and it's really, really unhelpful."
This post has been updated throughout.