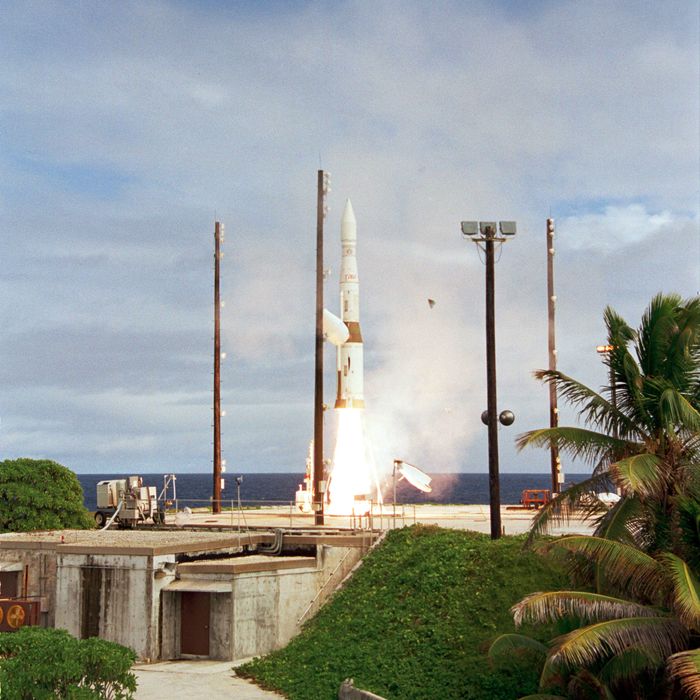 A ground-based missile interceptor.
Photo: US Department of Defense
As North Korea repeatedly tests its missile capabilities, the threat of Pyongyang launching an intercontinental ballistic missile that could reach the U.S.'s West Coast looms larger. On Tuesday, the United States military "successfully" tested its ground-based interceptor — which, as its name implies, is designed to shoot down an incoming ICBM in midair before it reaches its target.
At 3:30 p.m. PT, the U.S. military launched the ground-based interceptor from Vandenberg Air Force Base in California. The military also launched a long-range ICBM target from a test site in the Marshall Islands. According to the Pentagon, the missile from California successfully "destroyed the target in a direct collision" over the Pacific Ocean, about an hour after its launch.
U.S. officials say that this test was previously scheduled, and the fact that it coincides with North Korea's recent missile launches is just a coincidence. According to ABC News, this is the 18th test of the ground-based interceptor since 1999, and the first since the last successful test in 2014. This anti-missile technology has been deemed "combat ready" since 2004, per NBC News, but its overall record is pretty lousy, with only four of nine tests having been successful since then.
Yet this most recent test was the first ever "live fire" test against a simulated ICMB, says Reuters. Missile Defense Agency Director Vice-Admiral Jim Syring described Tuesday's exercise as "a critical milestone for this program," one that "demonstrates that we have a capable, credible deterrent against a very real threat."