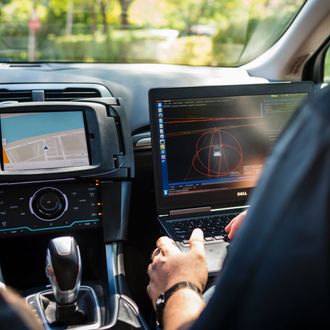 Photo: Angelo Merendino/AFP/Getty Images
As the lawsuit between Google-owned self-driving-car company Waymo and Uber lumbers on, things continue to look, well, not great for Anthony Levandowski, the engineer at the heart of the case. (Levandowski allegedly stole trade secrets and data from Google, and brought them to Uber in 2016.) Earlier this week, a judge banned him from working on anything related to LiDAR technology, and ordered Uber to return the stolen Waymo files. Then later this week, Uber's general counsel, Salle Yoo, sent Levandowski a letter, the New York Times reports. "We insist that you do everything in your power to assist us in complying with the order," the letter said.
Prior to this letter, Levandowski's actual involvement in the suit has been minimal, since the company, not him, is being sued. He pleaded the Fifth to avoid self-incrimination and stepped away from LiDAR projects voluntarily, prior to the court order. "If you do not agree to comply with all of the requirements set forth herein, or if you fail to comply in a material manner, then Uber will take adverse employment action against you, which may include termination of your employment," Yoo's letter also said. What happens next, it seems, will determine Levandowski's fate at Uber.