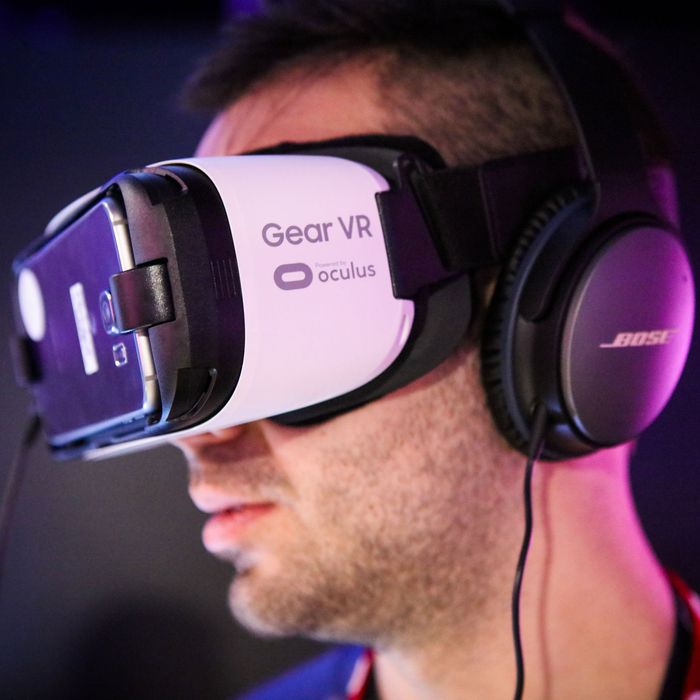 Not an UploadVR product.
Photo: Gabrielle Lurie/AFP/Getty Images
In this week's round of disturbing Silicon Valley sexual-harassment accusations, UploadVR, a California-based virtual-reality start-up, is being sued by its former director of digital and social media. According to court filings, the office culture at the start-up was "a boy's club environment." And this, according to the suit, was intentional. "The atmosphere and work environment at UploadVR was marked by rampant sexual behavior and focus, creating an unbearable environment for Plaintiff and other female employees," the suit says. It also highlights a number of sexist anecdotes about the start-up's culture. UploadVR allegedly had a room at the office designated as a place that employees, namely men, could have sex. It was, according to the suit, called the "kink room."
From the suit, via TechCrunch:
In the office, Defendants would frequently talk about how much sex they were going to have at each party, and how many girls they were going to have sex with. UploadVR even set up a room to encourage sexual intercourse at the workplace. The room was referred to as the "kink room" and contained a bed. Male employees used that room to have sexual intercourse, which was disruptive and inappropriate. Often, underwear and condom wrappers would be found in the room.
Other allegations include assigning female employees to less-important tasks, not reimbursing them for work expenses, and paying them less than male employees. UploadVR's expansion manager allegedly repeatedly told one female employee how attractive he found her, noting he "had a boner," and announcing he was leaving the room to go masturbate. UploadVR told TechCrunch it would not comment on pending litigation, but was "confident" the allegations would prove unmerited.
The UploadVR suit joins a growing number of allegations from female employees against a number of tech companies. Earlier this year, ex-Uber engineer Susan Fowler made waves after publishing a tell-all blog post about the year she spent, and the discrimination she faced, at the company.