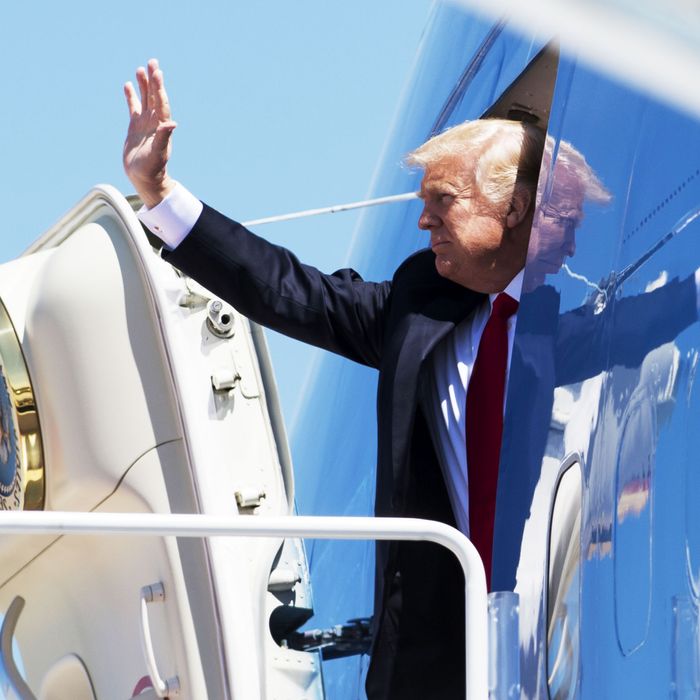 Trumpian travels.
Photo: SAUL LOEB/AFP/Getty Images
Donald Trump will hop on Air Force One and head overseas on Friday for his first trip abroad as president. Even before a special counsel was appointed, Trump aides were describing the trip as a much-needed "turning point" for an administration mired in scandal here at home. However, considering Trump's unpredictability, limited attention span, and distaste for straying too far from his home turf, the journey offers a whole new array of potentially serious pitfalls.
Trump will spend more than a week abroad, with stops in Saudi Arabia, Israel, the Vatican, Belgium, and Sicily. It's not a coincidence that the itinerary includes the religious centers for Islam, Judaism, and Christianity. White House officials portrayed the tour as an opportunity to unite the three religions in the fight against "intolerance" and radical extremism (i.e. destroying ISIS and isolating Iran). It could also be seen as delayed damage control for a president who embraced Islamophobia, attacked the Pope, and shared an anti-Semitic meme during the campaign.
"I think the importance of this trip and President Trump's leadership around bringing people the world over to understand we are in this together," Secretary of State Rex Tillerson said Thursday. "This is not a battle about religions. This is not a battle about cultures. This is a battle about good and evil."
Despite the hype, Trump seems unenthused about this new presidential obligation. He reportedly "barked at an aide" that the trip should be half as long, and has had trouble focusing on preparations for his meetings with foreign leaders. According to Reuters, National Security Council officials have resorted to repeating Trump's name throughout his briefing materials in an effort to make sure he reads them.
In other words, it's unlikely that an entirely new Trump is going to step off Air Force One. Here's a look at the controversies that are already brewing, and what to expect when our inexperienced and possibly agitated president throws himself into delicate foreign-policy matters.
By scheduling his first foreign meeting in Saudi Arabia, Trump is breaking with tradition. Recent presidents have typically made an early trip to Canada or Mexico, which offer lower stakes and signal neighborly goodwill. Those probably wouldn't have been comfortable visits for Trump, with his border wall and NAFTA threats, but Riyadh presents complications too. During the campaign, Trump repeatedly criticized Saudi Arabia, and he once accused them of being behind the 9/11 attacks twice in one day. Just last month, he said, "Frankly, Saudi Arabia has not treated us fairly, because we are losing a tremendous amount of money in defending Saudi Arabia."
Nevertheless, the Saudis are planning a "grandiose reception" for President Trump, according to the New York Times. It includes a royal banquet and an "Arab Islamic American Summit" with leaders from about 50 predominantly Muslim countries. Among the rumored invitees is Omar Bashir, the president of Sudan, who is wanted for war crimes — specifically genocide.
The optics are bad, especially since Sudan is still on the U.S. list of state sponsors of terror. The U.S. Embassy in Khartoum and the State Department made it clear that Bashir's attendance is unacceptable. "My understanding was that he would NOT be at the meeting with the president," Michael Anton, the spokesman for the National Security Council, told The Guardian. However, Sudan's foreign minister has said Bashir is coming, and Sudan is looking forward to normalizing relations with the U.S.
Trump plans to deliver a speech on Islam during the summit. It was reportedly written by adviser Stephen Miller, the architect of the January executive order than banned people from seven Muslim-majority nations from the U.S.
Trump will have some treats for the Saudis, including a $100 billion arms deal and a plan to build an "Arab NATO," details TBD, primarily as a check on Iran. Trump is also expected to sign several bilateral deals with Saudi Arabia, including reported agreements between Saudi Aramco, the state-run oil company, and some U.S. companies. According to the Financial Times, some of these deals were already in the works before Trump's presidency, but they'll be celebrated with fanfare nonetheless. A number of American CEOs — including JPMorgan Chase's Jamie Dimon and Dow Chemical's Andrew N. Liveris — will join the Saudis for a CEO forum while Trump is in town.
Trump will cap off his time in Saudi Arabia with a Twitter forum for young people, where absolutely nothing could go wrong.
Trump's itinerary suggests he's flying directly from Saudi Arabia to Israel, which would mark the first ever direct flight between the two countries, according to Haaretz.
However, he will not fly to Masada, an ancient fortress in Israel. Trump wanted to land his helicopter at the top of the site, according to Newsweek, but Israeli officials refused because it is a UNESCO World Heritage site that is believed to have been built before 100 A.D. Israeli officials offered a compromise: Trump could fly his helicopter to Masada's base, and then take the cable cars to the top, as his predecessors George W. Bush and Bill Clinton did. Trump opted to nix the visit and speech altogether.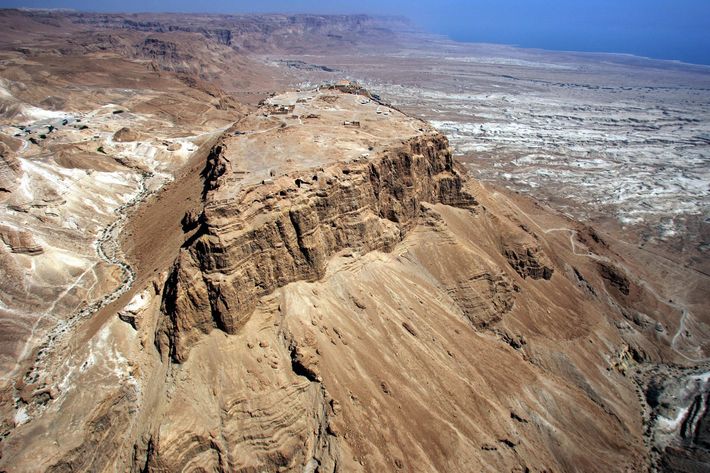 Instead, Trump will speak at the Israel Museum. He'll also lay a wreath at the Holocaust memorial at Yad Vashem, though he only plans to spend 15 minutes there. Some criticized this, noting that Israeli officials say 90 minutes is the "bare minimum" needed to cover the 45-acre complex. Later Trump will dine privately with Israeli prime minister Benjamin Netanyahu and his wife.
The following day, May 23, Trump will meet with Palestinian Authority president Mahmoud Abbas in Bethlehem before visiting the Western Wall in Jerusalem. Trump will be the first sitting president to visit the site, and it will not be without controversy. After a U.S. official planning the stop suggested the Western Wall was in the West Bank, and not part of Israeli territory, National Security Adviser H. R. McMaster declined to say who has claim to the holy site. The official reportedly said Trump's visit to the Western Wall was private, and the president did not want Netanyahu to accompany him.
Aside from all the local controversies, the stop in Israel also comes days after Trump shared highly classified information about ISIS with the Russians, which is believed to have come from Israeli intelligence.
Trump is set to meet Pope Francis at the Vatican on May 24, followed by a tour of St. Peter's. Somehow this, too, will be an awkward meeting for Trump, as he's been feuding with the pontiff. During the campaign, Pope Francis suggested that a man so passionate about building walls is "not Christian."
"If and when the Vatican is attacked by ISIS, which as everyone knows is ISIS's ultimate trophy, I can promise you that the Pope would have only wished and prayed that Donald Trump would have been president because this would not have happened," the Trump campaign said in a statement in 2016. "ISIS would have been eradicated unlike what is happening now with our all talk, no action politicians."
Pope Francis has made other comments supporting climate change and immigration that appeared to be aimed at Trump, but unsurprisingly, he suggested he wants to turn over a new leaf. "I will tell him what I think, he will tell me what he thinks, but I never wanted to judge someone before I listen to the person first," Pope Francis told reporters last week.
Trump will also meet with Italian president Sergio Mattarella before heading to Brussels.
If Trump makes it through the religious portion of his tour, he'll land in Brussels on May 25 and meet with Belgium's King Philippe and Prime Minister Charles Michel. Next, he'll have to resist replaying some of his greatest hits when he heads to European Union headquarters, meets newly elected French President Emmanuel Macron (rather than his far-right opponent Marine Le Pen), and attends a summit of leaders of NATO nations.
Trump's remarks at the NATO summit will reportedly also be drafted by Miller, who is a Bannon-esque isolationist. "We're just hoping the remarks don't turn out to be 'America First' on steroids," a European official told BuzzFeed News. "But who knows with Miller." Trump's speech is expected to reaffirm America's commitment to the military alliance, while also doubling down on NATO freeloaders.
Finally, Trump heads back to Italy for a G-7 summit in Sicily. Macron, Shinzo Abe of Japan, Paolo Gentiloni of Italy, Theresa May of Britain, Angela Merkel of Germany, and Justin Trudeau of Canada are set to attend, so Trump will have a chance to try out all his new awkward handshakes.

After the trip, Trump won't get much of a break. The White House said he'll make a final decision on the Paris Climate Agreement when he gets back from the G-7 summit. He plans to continue talking it over with his advisers, and presumably he needs to sleep on it — in his own bed.