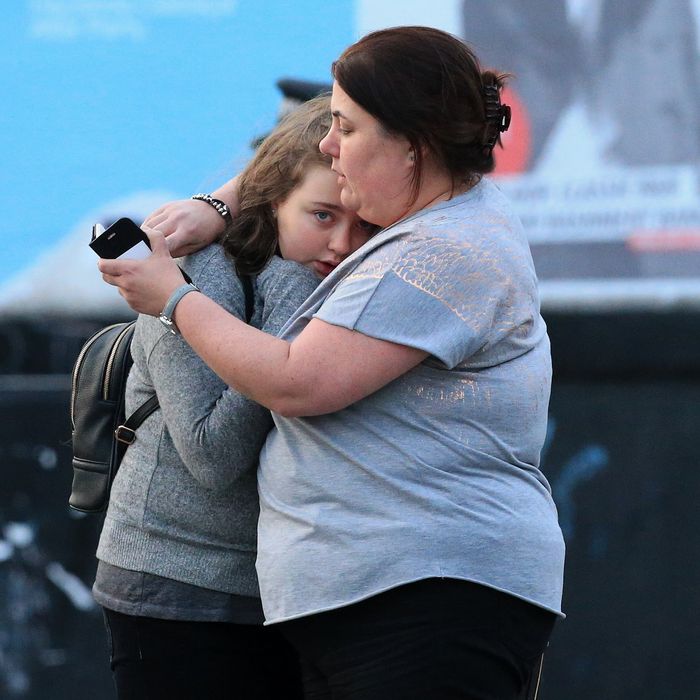 Vikki Baker and her 13-year-old daughter, Charlotte, hug outside the Manchester Arena after the attack.
Photo: Anadolu Agency/Getty Images
Late on Monday night, an explosion rocked England's Manchester Arena after a performance by the American pop star Ariana Grande. At least 22 people are dead, including children, and nearly 60 people are injured. Police said they believe an "improvised explosive device" was set off by 22-year-old Salman Abedi, who died at the scene. One other individual, a 23-year-old man, has been arrested in connection with the explosion. The attack is being treated as a "terrorist incident" and, on Tuesday, ISIS claimed responsibility for the bombing, though it is unclear if Abedi acted alone or is part of a larger terror cell. As a precaution, Prime Minister Theresa May raised the United Kingdom's terror threat to "critical," the highest level, on Tuesday night, suggesting another attack may be imminent.
The Manchester Arena — one of the largest venues in Europe, with a capacity of 21,000 — was packed with young fans of the 23-year-old singer and their parents.
The explosion happened around 10:30 p.m., just after Grande finished her set. Manchester transport police said it took place in the arena's foyer, where fans were congregating to buy merchandise.

"Ariana was off the stage, she'd finished her set," Calvin Welsford, 18, told CNN. "I looked around because I heard this big bang, people screaming and crying and flooded towards the stage."
Balloons fell on the crowd during the final song, and according to the Washington Post, initially some people thought they were hearing balloons popping and fans shouting because they'd spotted Grande. Later, other witnesses reported seeing bodies on the ground, and wounded victims staggering from the scene.
One father told the BBC that the blast knocked him through a set of doors, away from his wife and daughter. He said when he got up he saw about 30 people "scattered everywhere. Some of them looked dead," and he "looked at some of the bodies trying to find my family." He was later reunited with his wife and daughter, who were unharmed.
Social media showed panicked concertgoers racing to get out of the arena.
Outside the venue, people frantically searched for their loved ones. Cell phone reception was poor, since so many people were using their phones, and a nearby Holiday Inn became a meeting point.
"It was mayhem on the street, there were children crying, trying to get in touch with parents, parents on their phones trying to contact their kids," said Karen Ford, who took her 13-year-old daughter to the concert. "I brought my baby home, which some people won't be (able to do) tonight."
Parents posted photos of their children on social media, begging for help locating them, and police set up a hotline. Some fans had traveled across the country to see the concert, and with service at local rail stations suspended, they were stranded in the city. Taxi services gave free rides and the Twitter hashtag #RoomForManchester sprang up, with locals offering concertgoers a place to stay.
ISIS claimed responsibility for the Manchester attack Tuesday, saying that "explosive devices were detonated in the shameless concert arena resulting in 30 Crusaders being killed and 70 other being wounded." The declaration did not identify the "soldier"who carried out the bombing.
Twitter accounts connected to ISIS also celebrated in the aftermath of the attack, prior to the declaration from the terror group.
U.K. police have now identified the alleged suicide bomber as 22-year-old Salman Abedi, who died setting off the explosive device. U.S. officials appeared to have forced British officials' hand after they confirmed the suspect's identity publicly to reporters, according to the Guardian, potentially making this potentially the second American intel slipup in a week. Prime Minister Theresa May said earlier that British police had closed in on the suspect, but declined to reveal the name publicly, given the status of the investigation. May also reiterated Tuesday that British police and security services believe just one suicide bomber detonated an explosive, but law enforcement is rushing to determine whether the bomber acted alone, or was working as part of a larger cell.
Early reports suggest that Abedi is the British-born son of Libyan refugees who are believed to be longtime residents of Manchester. The BBC says he was at one point a student at Salford University, in Manchester. He was known to law enforcement, but not as the target of an active investigation. Two properties believed to be connected to Abedi's family were targeted in police raids, reports the BBC.
Manchester police have also arrested a 23-year-old man Tuesday morning in connection with the concert bombing, but did not give any additional information.
Greater Manchester Police Chief Constable Ian Hopkins said in a press conference earlier Tuesday that they believe the attack was carried out by a single man who died in the blast. "We have been treating this as a terrorist incident and we believe, at this stage, the attack last night was conducted by one man. The priority is to establish whether he was acting alone or as part of a network," Hopkins said.
"The attacker, I can confirm, died at the arena," Hopkins added. "We believe the attacker was carrying an improvised explosive device which he detonated causing this atrocity."
For the past few months MI5, the British intelligence service, had the terror threat set at "severe," meaning an attack was "highly likely," according to the New York Times. But on Tuesday night, May took the rare step and escalated the level to "critical," suggesting an attack may be imminent. May said authorities have been constantly reviewing the threat level since the attack. "It has now concluded, on the basis of today's investigations, that the threat level should be increased for the time being from severe to critical," May said in a televised address. "This means that their assessment is not only that an attack remains highly likely, but that a further attack may be imminent."
May explained that, practically, raising the threat level will mean that military personnel will take over for armed police officers who are guarding sites, to free up police officers for other duties. "I do not want the public to feel unduly alarmed," May said. "We have faced a serious terror threat in our country for many years and the operational response I have just outlined is a proportionate and sensible response to the threat that our security experts judge we face." This is only the third time the level has been set to "critical" since the U.K. began using this terror-rating system, and only the first time in nearly ten years, according to the BBC.
The Manchester bombing is officially the worst terror attack in Britain since 2005, when bombings on London's subways and buses killed 52 people.
Manchester police said about 400 officers are working on the investigation, and they're being aided by national counterterrorism experts.
Operations and raids are underway across Manchester. In one location, residents reported hearing a "bang" at a home in a Manchester suburb, according to the Guardian. Reports suggest it was a "controlled explosion" at the residence of that 23-year-old who has been taken into custody.
The U.S. Department of Homeland Security said it was monitoring the situation. "At this time we have no information to indicate a specific threat involving music venues in the United States," said agency spokesman David Lapan. "However, the public may experience increased security around public places and events as officials take additional precautions."

The White House said President Trump, who is in Israel, is receiving updates from his national security team.
The NYPD has stepped up security in response to Manchester attack and has deployed extra officers to popular and busy spots, including Madison Square Garden, Yankee Stadium, and Times Square. Commissioner James O'Neill said police are closely monitoring the developments in Britain.
The current toll stands at 22 people dead, and nearly 60 injured. At least 12 of the victims hospitalized were under the age of 16. Some of the injured appeared to have sustained horrific shrapnel wounds, including reports that suggested victims had metal bolts lodged in their bodies.
Names of two of the victims killed have been released: 18-year-old Georgia Callander, a university student; and 8-year-old Saffie Rose Roussos, who attended the show with her mom and sister, both of whom were reportedly injured in the attack.
Friends and family are also still searching for loved ones in the aftermath of the attack, posting pleas on social media for any information – though were later revealed as hoaxes.
Ariana Grande has reportedly postponed the rest of her European tour. Hours after the attack, she posted this on Twitter:
Prime Minister Theresa May said she will hold an emergency Cabinet meeting on Tuesday. "We are working to establish the full details of what is being treated by the police as an appalling terrorist attack," she said in a statement. "All our thoughts are with the victims and the families of those who have been affected."
All national campaigning in Britain's June 8 general election has been suspended "until further notice."
President Donald Trump, speaking alongside Palestinian leader Mahmoud Abbas in Bethlehem, called the attackers "evil losers in life." The White House said that Trump himself inserted that particular insult into the text of his speech.
"We stand in absolute solidarity with the people of the United Kingdom. So many young, beautiful, innocent people living and enjoying their lives murdered by evil losers in life," Trump said. "I won't call them monsters because they would like that term. They would think that's a great name. I will call them, from now on, losers, because that's what they are. They're losers. And we'll have more of them. But they're losers. Just remember that."
Trump also spoke with May about the attack, according to the White House.
Other leaders from around the world expressed their horror and offered condolences.
"This incident, this attack, is especially vile, especially criminal, especially horrific because it appears to have been deliberately directed at teenagers," said Australian prime minister Malcolm Turnbull. "This is an attack on innocents. Surely there is no crime more reprehensible than the murder of children. This is a direct and brutal attack on young people everywhere, on freedom everywhere."
This post has been updated throughout.