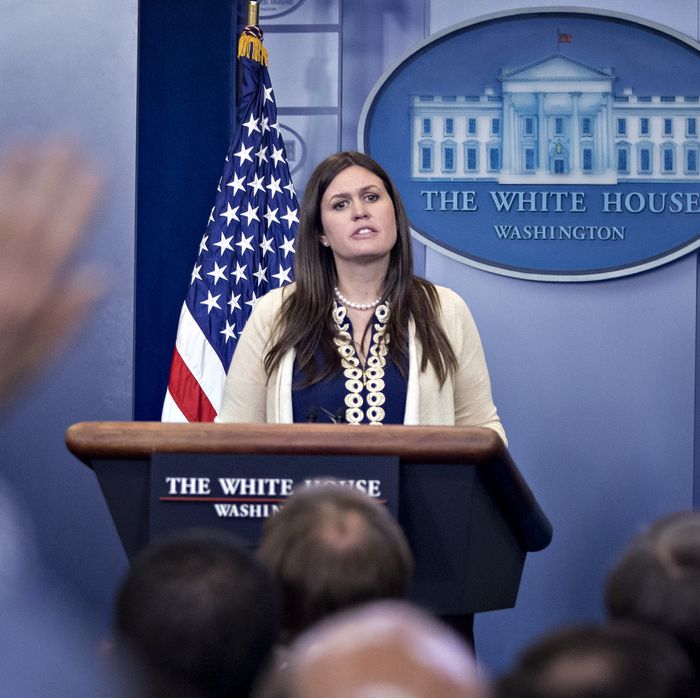 The new account doesn't make sense, but it's still impressive.
Photo: Andrew Harrer/Bloomberg via Getty Images
When the news that President Trump fired FBI director James Comey broke on Tuesday night, the White House said the president was just acting on the recommendation of Deputy Attorney General Rod Rosenstein. Letters from both President Trump and Attorney General Jeff Sessions referenced a two-page memo in which the newly confirmed deputy attorney general faulted Comey for his handling of the Hillary Clinton email probe during the campaign.
This story didn't make sense, for a number of reasons. If Comey committed fireable offenses during the campaign, why did Trump repeatedly praise him and keep him on for more than 100 days of his administration? If the main issue was the Clinton probe, why did Trump's letter only reference the Russia investigation? Why were Trump and Sessions moved to act so quickly and decisively when Rosenstein never explicitly called for Comey's firing?
Trump himself quickly forgot about the official explanation for Comey's firing, telling reporters that the director was canned because "he wasn't doing a good job" right now, not back in 2016. But throughout Tuesday night and Wednesday morning, top White House officials stuck to their story, suggesting that Rosenstein independently concluded that Comey had to go, then surprised the president with his recommendation.
According to the Washington Post, when White House press secretary Sean Spicer emerged from the bushes on Tuesday night, he denied that Trump directed Rosenstein to come up with a rationale for Comey's firing:
As Spicer tells it, Rosenstein was confirmed about two weeks ago and independently took on this issue so the president was not aware of the probe until he received a memo from Rosenstein on Tuesday, along with a letter from Attorney General Jeff Sessions recommending that Comey be fired. The president then swiftly decided to follow the recommendation, notifying the FBI via email around 5 p.m. and in a letter delivered to the FBI by the president's longtime bodyguard. At the same time, the president personally called congressional leaders to let them know his decision. Comey learned the news from media reports.

"It was all him," Spicer said of Rosenstein, as a reporter repeated his answer back to him. "That's correct — I mean, I can't, I guess I shouldn't say that, thank you for the help on that one. No one from the White House. That was a DOJ decision."
In interviews on CNN, White House adviser Kellyanne Conway suggested multiple times that Rosenstein was the driving force behind the decision to terminate Comey. "The president took the advice of the deputy attorney general, who oversees the director of the FBI, and brought those concerns to the attorney general, who brought them to the president. And they made a decision to remove him," she said.
White House deputy press secretary Sarah Huckabee Sanders said the same thing on Wednesday's Morning Joe. "I was asked if this was something [Rosenstein] came to on his own. That's my understanding," she said. "This is something that as coming in to this new position, and being the person that would oversee the director of the FBI, that would be part of this process — to do a review and to make a recommendation based on that review. And that's exactly what he did."
Before Tuesday, Rosenstein was an unknown, well-respected career Justice Department official. The Washington Post revealed on Wednesday that when Rosenstein saw how he was being used in the White House narrative he threatened to resign. But apparently he decided not to enhance the debacle's "Saturday Night Massacre" feel.
By Wednesday afternoon, the official story on Comey's firing had shifted. Filling in for Spicer during the daily press briefing, Huckabee Sanders said Trump had actually been thinking about firing Comey "since the day he was elected." But he didn't actually decide to dismiss him until Monday, when Sessions and Rosenstein "had come to him to express their concerns," she said. "The president asked that they put their concerns and their recommendation in writing."
Huckabee Sanders also said that Trump's "big catalyst" for Comey's firing came days earlier, when Comey testified before Congress about his decision to hold a press conference about Clinton's emails without notifying his superiors.
"Director Comey made a pretty startling revelation that he had essentially taken a stick of dynamite and thrown it into the Department of Justice by going around the chain of command," Sanders said. "That is simply not allowed."
On Wednesday night, the White House summed up the new timeline in writing:
The revised explanation for Comey's firing still doesn't make much sense, but it does manage to make room for all the conflicting rationales that emanated from the White House in the last 48 hours. Trump wanted to get rid of Comey for months, and last week's congressional testimony spurred him to action. (But for five days all he did was make a jab at Comey on Twitter). Meanwhile, Rosenstein decided completely independently that his first order of business should be reviewing Comey's actions during the campaign. He brought these concerns to Trump on Monday, and that's when the president made his final, final decision to dump Comey.
According to multiple reports, the official White House version of events bears little resemblance to reality. Sources say Trump had a long list of grievances against Comey — including the ongoing Russia probe, Comey's expanded media presence, and his refusal to back up Trump's claim that President Obama wiretapped him — and in recent weeks he'd grown angrier and angrier.
Comey's remark during his Senate testimony about being "mildly nauseous" over accusations that he threw the election might have been what sent Trump over the edge. Politico reported that Trump "griped about it extensively for at least two days," and according to the New York Times that's when the president started looking for an excuse to fire Comey:
Mr. Comey's fate was sealed by his latest testimony about the bureau's investigation into Russia's efforts to sway the 2016 election and the Clinton email inquiry. Mr. Trump burned as he watched, convinced that Mr. Comey was grandstanding. He was particularly irked when Mr. Comey said he was "mildly nauseous" to think that his handling of the email case had influenced the election, which Mr. Trump took to demean his own role in history.

At that point, Mr. Trump began talking about firing him. He and his aides thought they had an opening because Mr. Comey gave an incorrect account of how Huma Abedin, a top adviser to Mrs. Clinton, transferred emails to her husband's laptop, an account the F.B.I. later corrected.
Most people thought Comey was talking about the sanctity of the democratic process, and perhaps questioned why he was only "mildly" nauseous. If the unofficial version of events is to be believed, Trump was offended by his FBI director saying he wouldn't want to throw an election for him.