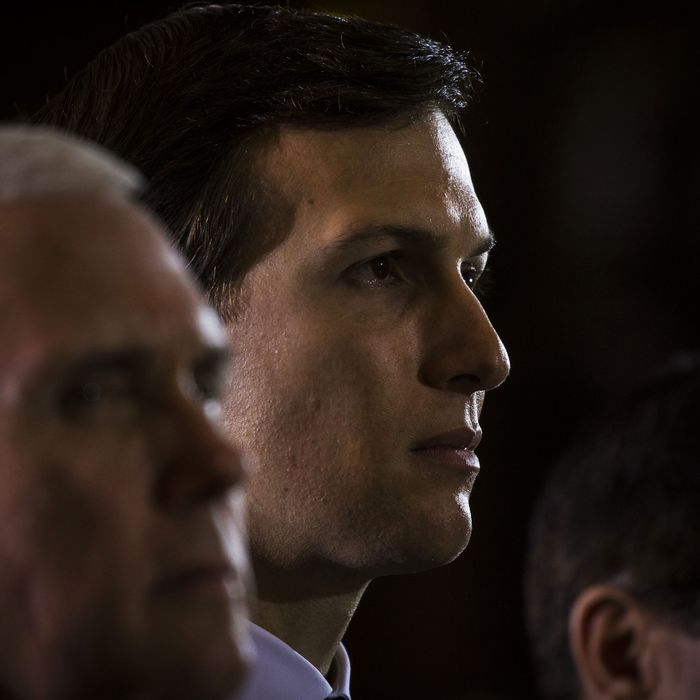 Unlike Manafort and Flynn, Trump can't fire Kushner.
Photo: Anadolu Agency/Getty Images
Jared Kushner is caught up in another Trump scandal, and this time a well-placed leak about how he and wife, Ivanka Trump, really tried to push a more moderate viewpoint probably isn't going to help.
The Washington Post and NBC News reported on Thursday that Kushner is "under FBI scrutiny" as part of the Russia election-meddling probe. While Kushner has not been accused of any wrongdoing, according to CNN, the FBI is looking into his role in "the Trump campaign's 2016 data analytics operation; his relationship with former national security adviser Michael Flynn; and Kushner's own contacts with Russians." It was previously revealed that he met with Sergey Kislyak, the Russian ambassador to the United States, and Sergey Gorkov, the head of Vnesheconombank, a Russian bank that's under U.S. sanctions.
Those meetings, which he initially failed to disclose, took place in December, so obviously if there were any Russian election meddling it had already taken place. While the investigation was originally launched to determine if the Russians colluded with Trump associates to sway the election, it's expanded to include potential financial crimes committed by people close to the president.
NBC News noted that while Kushner has drawn the attention of investigators, he's not been named a formal subject of the probe, like Paul Manafort and Michael Flynn. A grand jury has subpoenaed records from the two former Trump aides, but so far there are no reports that similar demands have been made of Kushner.
A week ago, the Post reported that a "current White House official" had become a "significant person of interest" in the probe. Many guessed that it was the president's son-in-law and top adviser, and New York contributor Yashar Ali confirmed on Twitter that it was him.
Following Thursday's reports, Kushner's lawyer said he would be willing to testify before Congress about his contacts with the Russians. "Mr. Kushner previously volunteered to share with Congress what he knows about these meetings," said his attorney, Jamie Gorelick. "He will do the same if he is contacted in connection with any other inquiry."