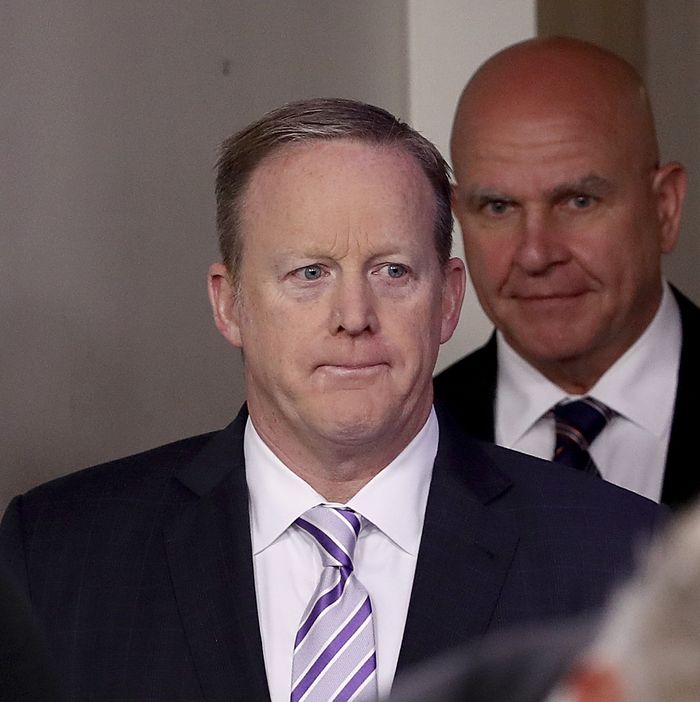 Anyone have a copy of I Hate You, Don't Leave Me?
Photo: Win McNamee/Getty Images
Last Thursday, convinced that his press team was mishandling the spiraling scandal over his firing of FBI Director James Comey, President Trump decided to sit down with NBC's Lester Holt. Rather than teach his staff a lesson on crisis management, President Trump made the situation far worse when he casually suggested that he might have engaged in obstruction of justice.
That night, Politico noted that the incident was a good example of the nightmare that is working for President Trump:
The episode highlights two fundamental issues of the Trump presidency: It is often impossible to work for Trump in the White House — and it is often impossible for Trump to be happy with those who work for him.

"They're hostages," said longtime political consultant Mark Corallo, who served as Attorney General John Ashcroft's spokesman under President George W. Bush.
Corallo's remark seemed a bit odd, since Trump staffers are adults who chose to work in the administration of a man who hosted a reality-TV show about firing people, and are free to leave at any time.
But five days later the controversy surrounding the Trump administration has grown so bad that even congressional Republicans are taking action, and reports on the situation inside the White House sound more and more like cries for help.
After Monday's revelation that Trump shared highly classified information with the Russians, sources said the mood in the West Wing was like "a morgue," staffers were "hiding in offices," and reporters heard shouting coming from a White House conference room. On Tuesday, after the New York Times reported that Comey wrote a memo describing Trump's request to kill the investigation into National Security Adviser Michael Flynn, a senior administration official gave the Daily Beast an updated assessment: "I don't see how Trump isn't completely fucked."
Aides don't seem to feel there's much they can do about that. One official told Politico that there's a pervasive sense that "we are kind of helpless." Sources described numerous instances in which Trump kept most of his advisers out of the loop. Few knew about his plan to fire Comey, and one senior administration official said they eventually realized he'd made the decision over the weekend at his residence in New Jersey, where "none of us were." They found out that Trump considered Comey a "showboat" when he said so to Lester Holt, and they were caught off guard by Trump's Friday-morning tweets threatening the ex-FBI director.
Politico said one official laughed when asked if Trump really has recordings of his conversations with Comey. "If so, none of us have heard the tape," they said. The same goes for Tuesday's revelation that Comey wrote memos describing his conversations with Trump:
Aides rushed to ask Trump what he had actually told Comey. But the White House had no memos or tapes of the meeting to rebut the claims, several officials said.

Trump didn't even give an entire readout of his conversation, leaving staffers "actually unaware of what happened," one official said.

"It's not like we were in on the meeting," this person said. "We had no idea. We still don't really know what was said."
On the rare occasion when they do have the opportunity to prevent President Trump from shooting himself in the foot, they risk incurring his wrath. Per the Times:
Some of Mr. Trump's senior advisers fear leaving him alone in meetings with foreign leaders out of concern he might speak out of turn. General McMaster, in particular, has tried to insert caveats or gentle corrections into conversations when he believes the president is straying off topic or onto boggy diplomatic ground.

This has, at times, chafed the president, according to two officials with knowledge of the situation. Mr. Trump, who still openly laments having to dismiss Mr. Flynn, has complained that General McMaster talks too much in meetings, and the president has referred to him as "a pain," according to one of the officials.
Now that the situation has grown more dire, apparently no one in the West Wing is safe from Trump's anger:
And his own mood, according to two advisers who spoke on the condition of anonymity, has become sour and dark, and he has turned against most of his aides — even his son-in-law, Jared Kushner — describing them in a fury as "incompetent," according to one of those advisers.
White House press secretary Sean Spicer appears to be on particularly thin ice, with Fox News host Kimberly Guilfoyle revealing on Monday night that she's talked with a number of Trump officials about taking over his job. But apparently even Trump doesn't know what his rumored staff "reboot" would look like; he reportedly hasn't made up his mind about whom to fire, or come up with potential replacements.
Spicer has a particularly challenging task: Defending Trump's tweets.
Under these circumstances one might think that some White House officials would look forward to being set free by President Trump. But most top aides aren't even willing to spend a week away from the president, who as Politico notes, "can often be influenced by the most recent person he's spoken with." When President Trump sets off on his first overseas trip at the end of the week, he'll have a bizarrely large entourage:
Son-in-law Jared Kushner, daughter Ivanka Trump, chief strategist Steve Bannon, chief of staff Reince Priebus, economic adviser Gary Cohn, deputy National Security Adviser Dina Powell, policy adviser Stephen Miller and press secretary Sean Spicer will all be along for major chunks of the trip, according to multiple White House officials. Secretary of State Rex Tillerson will travel with Trump through the final stop in Sicily for the G7 conference, and National Security Adviser H.R. McMaster will be along for the entirety of the trip.

Also among those traveling with the president: his trusted aide Hope Hicks, deputy press secretary Sarah Sanders and National Security Council spokesman Michael Anton, among others.
It's hard to pity the White House "hostages" when they defy even Trump's efforts to push them away.