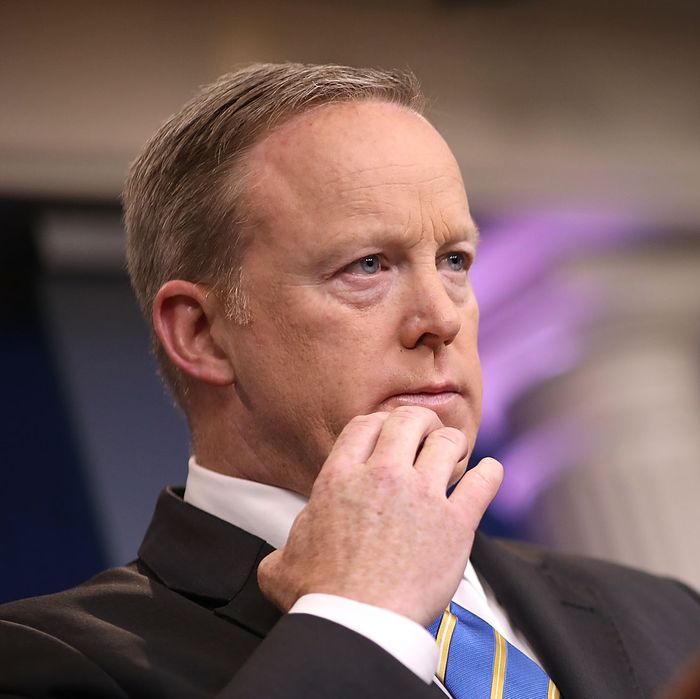 Sean Spicer at Monday's press briefing, back when he thought the controversy of the week would be taped Oval Office conversations.
Photo: Chip Somodevilla/Getty Images
When we last left our motley West Wing crew, President Trump was "angry at everyone" on his staff, though last week's two major crises — the firing of FBI Director James Comey and Trump possibly admitting to obstruction of justice in a TV interview — were very clearly caused by the president himself. Axios reported that he was considering a "huge reboot" that could involve the firing of Reince Priebus, Steve Bannon, Sean Spicer, and even some cabinet secretaries.
On Monday morning, administration officials were betting that they could avoid Trump's wrath if no new scandals emerged in the next few days. "Top officials — knowing he is often swayed by media coverage — are trying to get through the week without any firings and hope that a 10-day foreign trip goes off without a hitch and changes his often frustrated mood," Politico reported.
"If we could get this trip done well, people would forget about the Comey stuff, and we could probably weather it," one White House official said. Another described the trip, which starts on Friday, as a "turning point."
Like all Trump pivots, it wasn't meant to be. On Monday night, the Washington Post revealed that Trump divulged highly classified information to the Russians during a meeting in the Oval Office last week.
This set off a now-familiar panic in the White House. National Security Adviser H.R. McMaster, Deputy National Security Adviser Dina Powell, and Secretary of State Rex Tillerson quickly suggested the story was false, but their statements only raised more questions. In a brief press conference, McMaster said he was in the meeting with the Russians and "at no time were intelligence sources or methods discussed" — but no report claimed that the president had disclosed those details. McMaster did not clearly deny that Trump discussed the content of the intelligence with the Russians.
One aide told the Daily Beast that the scene inside the White House on Monday night was tense and like "a morgue." Senior staffers were said to be "hiding in offices" (which is a step up from hiding "among" the bushes). Reporters said they saw Bannon, Spicer, Deputy Press Secretary Sarah Huckabee Sanders, and Communications Director Mike Dubke enter a conference room. Then they heard yelling coming from the room, and the TVs got very loud.
Reporters huddled outside the door, waiting for further comment from the communications team. Eventually Sanders told them to disperse, saying: "We're not answering any other questions right now, so you guys can clear this hallway."
"At this point I'm wondering if we'll ever be able to stop talking about Russia," a White House staffer told the Daily Beast after the Washington Post report was published. "It's totally self-inflicted. Every time I feel like we're getting a handle on the last Russia fiasco, a new one pops."
Maybe they do just need to "get the president outside the beltway," as one source told CNN. Trump is set to meet with leaders from Saudi Arabia, which he's accused of failing to pull its weight on defense, Israel, which his administration offended several times in recent days, and NATO, which he once called "obsolete." He'll also have an audience with Pope Francis, who he's clashed with on a number of occasions. So yes, there should be ample opportunity for Trump to distract everyone from the Russia scandal.