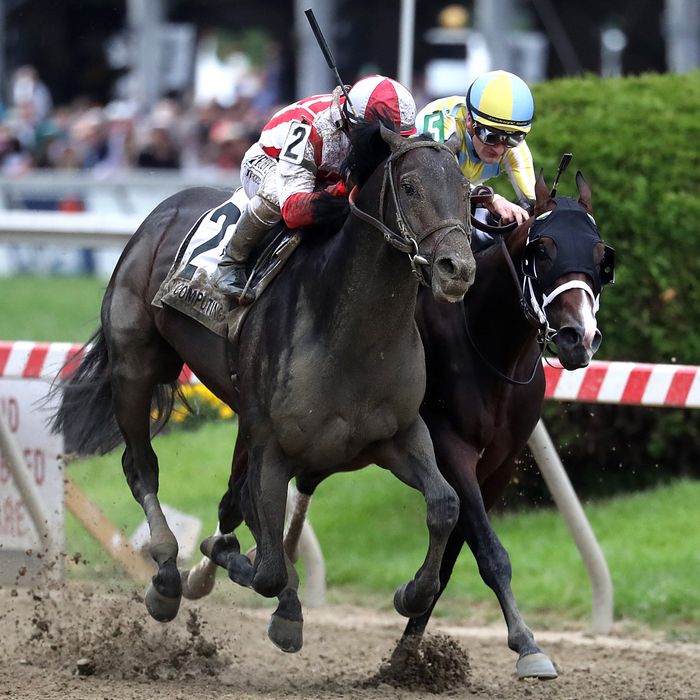 Cloud Computing (horse).
Photo: Rob Carr/Getty Images
On Saturday, a horse named Cloud Computing won the Preakness Stakes, overcoming 12-to-1 odds, beating Classic Empire by a nose and ruining the Triple Crown chances of Kentucky Derby winner Always Dreaming. Cloud Computing takes his name from the technological concept of "cloud computing," storing data in remote servers connected to the internet, rather than locally on one's device. It's most evident to consumers in products like Dropbox and Google Drive.
Chad Brown, Cloud Computing's trainer, said after the race, "It's unbelievable. A lot of teamwork." That's not so different from cloud-computing technology, in which networked servers and clients send packets of data back and forth.
But, was Cloud Computing, the horse, faster than cloud computing, the technology? Let's find out!
Going by the horse's Preakness times — 1.1875 miles in 115.98 seconds — Cloud Computing ran at an average pace of 36.85 miles per hour. The distance from the New York Magazine offices to Los Angeles as the crow flies is roughly 2,446 miles, according to Google Maps.
So assuming that Cloud Computing maintains his Preakness speed, he would reach Los Angeles in a little over 66 hours.
I emailed a friend in Los Angeles, from New York's offices in lower Manhattan (both of us were using Google's webmail service, which qualifies as "cloud computing" because messages are stored on remote servers and not client-side). According to the metadata of the email, I sent it at 1:54:35 p.m., and Google reports that it was "Delivered after 0 seconds." Her reply, sent at 1:55:58 p.m., is described as "Delivered after 1 second."
Let's be forgiving and use the response time as our data set. An email from a friend in Los Angeles traveled to my computing device in Manhattan in one second.
Let's recap. According to my calculations, it would take Cloud Computing 66 hours (237,600 seconds) to trot from New York to Los Angeles or vice versa. It took an email, traveling across Google's cloud-computing network, one second to do the same.
According to math: 1 second < 237,600 seconds.
In the race between horse and machine, the machine wins! Better luck next year, horse!