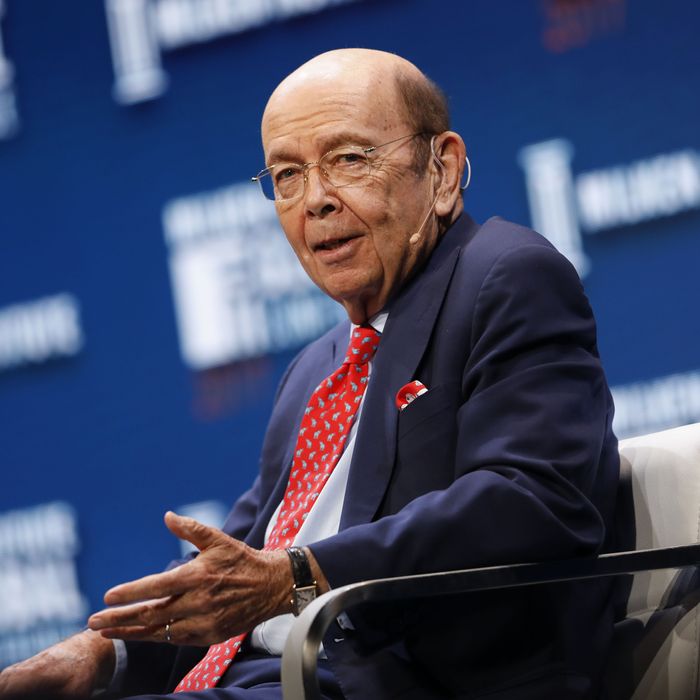 Wilbur Ross speaks during the Milken Institute Global Conference on May 1, 2017.
Photo: Patrick T. Fallon/Bloomberg via Getty Images
Both politicians and pundits have made many bizarre remarks about the U.S. strike on a Syrian air base last month, from President Trump's childlike description of the chocolate cake he was eating at the time to Brian Williams repeatedly praising the "beautiful" war footage on MSNBC.
Now Commerce Secretary Wilbur Ross has pulled off an impressive feat: combining the Marie Antoinette element of Trump's remarks and the callousness of Williams's commentary. During a speech on Monday, Ross recalled the scene at Mar-a-Lago on April 6, when Trump dined with Chinese president Xi Jinping as two navy destroyers launched 59 Tomahawk missiles into Syria.
"Just as dessert was being served, the president explained to Mr. Xi he had something he wanted to tell him, which was the launching of 59 missiles into Syria," Ross said. "It was in lieu of after-dinner entertainment."
Ross was addressing the annual Milken Institute Global Conference in Beverly Hills, which Bloomberg describes as a gathering for "four thousand of the wealthiest, most influential leaders in the world."
The crowd chuckled at Ross's remark, according to Variety, and he added: "The thing was, it didn't cost the president anything to have that entertainment."
The "entertainment" might not have cost Trump anything, but USA Today calculates that the Tomahawk missiles alone cost about $79.9 million. The strike was launched after Syrian president Bashar al-Assad's forces killed at least 87 people with chemical weapons, and the Syrian military claimed that at least seven people were killed and nine wounded in the U.S. strike.