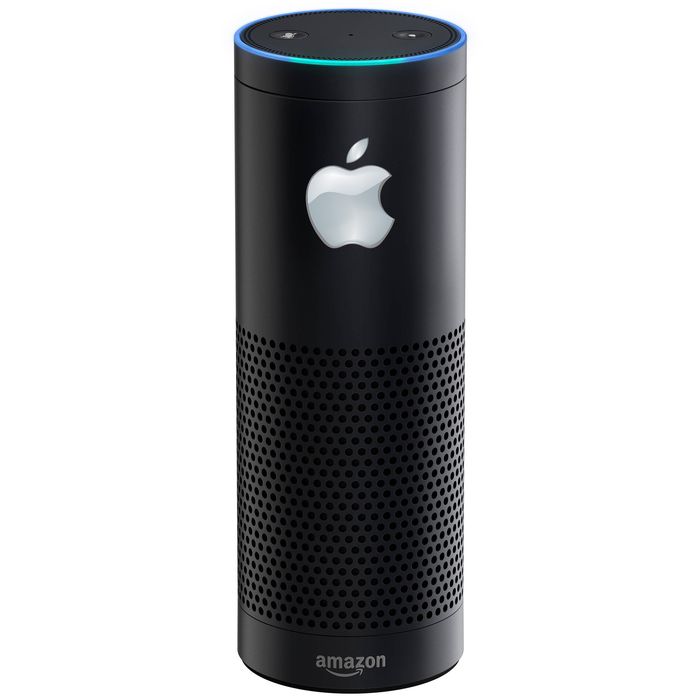 If rumors are true, you'll soon be able to have Siri as a smart speaker in your home. Per KGI's Ming-Chi Kuo, one of the most reliable sources when it comes to forecasting what Cupertino will do, says Apple will likely unveil its own version of the Amazon Echo at WWDC, scheduled for June 5–9 this year.
Apple is betting that people are willing to pay a premium for a better-sounding speaker, cramming in seven tweeters and a subwoofer, and taking its design cues from the "trashcan" look of the Mac Pro tower. Per KGI, Apple's Siri speaker will use an A8 or A9 chip, either of which would would make it significantly more powerful than either an Echo or a Google Home — though, since the Echo and Home mainly work via connecting to remote servers to handle voice recognition and requests, it's not entirely clear what this extra processing power would do.
It's also not clear when the product would actually arrive. Apple may simply announce that the Siri speaker is coming at WWDC, but not release it until the end of the year. WWDC is aimed at developers much more than to the general public, and an early announcement would give them time to build apps and services made explicitly for voice interaction.
Regardless, the move would make sense. It's really a matter of when, not if, Apple puts out its own AI speaker device. The main reason: Apple's HomeKit has quietly integrated itself with nearly every smart-home-product manufacturer out there, which is no small feat: HomeKit requires that manufacturers include Apple-certified chips and firmware, which requires deep integration between Apple and partners. But for all that work and time spent with other companies, HomeKit itself remains relatively unknown. At CES this year, every smart-home product was centered squarely on the Echo and Alexa. HomeKit felt like an afterthought.
One thing holding HomeKit back? The only real choice for a hub (required to get all of your smart-home gadgetry working in concert) has been the Apple TV, which has seen a troubled development cycle and would be very few people's media streamer of choice. More importantly, to activate the HomeKit still requires you to pick up your smartphone or Apple TV remote. Amazon's Echo, thanks to being always on, just requires you to say the words for your lights to turn off, or to find out what the weather is going to be like tomorrow. It's a bit less friction, which, in the current tech ecosystem, means everything.
Meanwhile, there are rumors that Amazon is working on an Echo that would include a touchscreen of some sort, allowing for visual feedback when needed. Google Home, while off to a slow start, has been slowly building the number of smart-home products it can work with, and its skill base. And Microsoft has quietly been working on bringing Cortana into the home as well.
Smart-home speakers are a market that Amazon clearly owns right now — Amazon doesn't provide numbers, but analysts believe tens of millions of Echos have been sold, and KGI predicts that the Echo will soon start outselling the iPad. But while Apple may be entering the game late, that hasn't hampered the company in the past. Apple didn't produce the first MP3 player, or the first tablet, or the first smartphone. It just created the best-selling versions of them. We'll see if Siri can pull off the same trick when it comes time to take on Alexa.