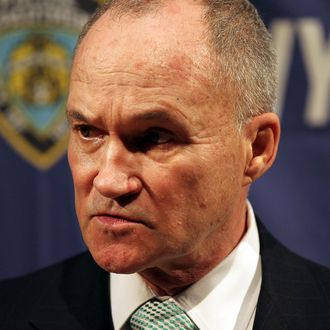 Ray Kelly.
Photo: Spencer Platt/Getty Images
As controversial as James Comey's firing may be, one thing's for sure: The FBI is now hiring. Deputy Director Andrew McCabe, a 20-year Bureau veteran, will serve as acting director in the interim, but it seems likely that President Donald Trump will make good on his desire for "new leadership."
One name has bubbled to the top of list pretty quickly — that of former NYPD Commissioner Ray Kelly. Kelly's name has been floated as a replacement before, including the last time an FBI director got sacked, during the Clinton administration. (In his book, Kelly, who at the time was serving his first stint as NYPD Commissioner, says he turned the job down.) Kelly did end up serving in the Clinton administration, working as an undersecretary in the Treasury Department and later as the Commissioner of U.S. Customs Enforcement. His name came up again for FBI director in 2011, and had been thrown out as a pick to lead the Department of Homeland Security in 2013, which also didn't come to pass.
Kelly, the longest-serving NYPD Commissioner, oversaw historic drops in crime under Mayor Bloomberg, but his legacy is complicated by his controversial use (and defense) of stop-and-frisk and the department's expanded Muslim surveillance. But Kelly's tough-on-crime reputation fits right in with Trump's "law-and-order" talk.
So will Kelly, now 75, finally get his chance? Many within the New York delegation are pushing him hard, including some Democrats. Republican congressman Peter King and Dan Donovan, who represents Staten Island, have publicly offered their support.
Democratic representative Carolyn Maloney told Politico that it was too soon to talk about replacing Comey, but that Kelly would be an "excellent appointment." Senate Majority Leader Chuck Schumer has backed Kelly before — most recently for the Homeland Security post — but hasn't said anything publicly on the matter. Mayor Bill de Blasio, who's been critical of Kelly in the past, praised his independence — "and we need an independent FBI director right now," he said — but added that he disagreed with his crime-fighting approach.
Since there's a Trump tweet for every occasion, we know that the president has previously extolled the former commissioner:
But White House sources have said Trump is reportedly considering former Indiana Republican congressman Mike Rogers, a former FBI agent and chair of the House Intel committee. Rogers also worked for a time on Trump's transition team. While the GOP would probably support this move, Rogers seems as if he'd be a tough sell to Democrats because of his political affiliations, particularly given the circumstances of Comey's firing.
One natural contender would seem to be Rudy Giuliani, but he told New York's Olivia Nuzzi that he was "not a candidate for FBI director." Chris Christie, New Jersey governor, former prosecutor, and a perpetual candidate for all Trump's cabinet positions, has also been mentioned. Other names that have been floated include South Carolina congressman Trey Gowdy (he of the House Benghazi investigation), and John Pistole, a former top official at the FBI and head of the TSA during the Obama administration.