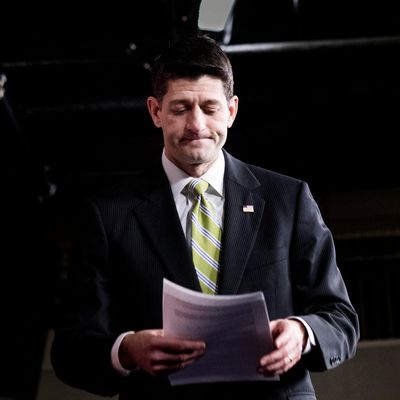 Hmm, have we tried making it even less popular?
Photo: Melina Mara/The Washington Post/Getty Images
Last week House Republicans announced that by adding an amendment to their health-care bill that would allow states to loosen protections for people with preexisting conditions, they'd finally struck a deal that would allow them to do away with Obamacare. Over the weekend, several lawmakers suggested that we'd see a vote by the end of the week.
Then, on Monday, President Trump stirred confusion when he claimed that the bill was still a work in progress, and would certainly contain protections for preexisting conditions. "I want it to be good for sick people. It's not in its final form right now," he told Bloomberg News. "It will be every bit as good on pre-existing conditions as Obamacare."
Trump was accused of having no idea what's in his own health-care bill, and judging from the inconsistent messaging emanating from the White House in recent days, it's very possible that he got confused about the status of the resurrected Trumpcare legislation.
But now Trump can claim that he actually had uncanny foresight about where the bill was headed. Following reports that Republicans were still struggling to find the votes to pass Zombie Trumpcare, the legislation is getting another last-minute overhaul. Per Politico:
Senior Capitol Hill and White House officials said a new amendment being drafted Tuesday night would address concerns from key moderates about how the legislation treats individuals with pre-existing conditions. Earlier in the day, multiple sources said House leadership floated the idea of adding additional money to high-risk pools aimed at subsidizing more expensive premiums for people with such medical conditions.
These changes could come out in the next 24 hours, and White House officials are still pushing for a vote before Congress heads home for an 11-day recess on Thursday. "Obviously some members are looking for changes," said AshLee Strong, a spokeswoman for House Speaker Paul Ryan, adding, "We've not made any at this point, and don't know that we will."
Since the original push for the American Health Care Act in March, House Republicans have been wavering between a moderate-backed version of the bill that's essentially "Obamcare Lite," and a conservative version that reduces regulations and cuts costs for healthy people at the expense of the poor, sick, and elderly. Our GOP Goldilocks can't seem to find a bill that's "just right" because those ideas are contradictory.
The version released last week was the first supported by the ultra-conservative Freedom Caucus, but now concerns over preexisting conditions have driven away centrists. This week both Representative Billy Long, a key Trump ally, and Representative Fred Upton, an influential health-care wonk, said they can't support the current measure because they aren't sure it would allow sick people to receive affordable care.
Trying to woo centrists by adding money to high-risk pools is a tricky maneuver. It's unclear where the funding would come from, and they'd need a lot of it. Historically, high-risk pools have been underfunded, and according to a new estimate from the Center for American Progress, those funded by the current GOP plan "would fall short by at least $19.7 billion per year, or by about $200 billion over 10 years."
And adding more funding for high-risk pools might not even do the trick. While a few undecided Republican lawmakers told the Huffington Post that they found the idea interesting, the reaction from the hard "no"s was less positive:
Rep. Frank LoBiondo (R-N.J.) said that sort of amendment probably wouldn't change his vote and that he was "not really in play" at this point. Former Energy and Commerce Chairman Fred Upton (R-Mich.), who came out in opposition to the bill on Tuesday, also said the proposal wouldn't change his mind if Republicans didn't fix the protections for people with pre-existing conditions. "More money does not do the trick," Upton said.

Rep. Charlie Dent (R-Pa.), the chairman of the moderate Tuesday Group, said that even with that sort of amendment, he still would have a number of concerns. Rep. Ileana Ros-Lehtinen (R-Fla.) said she was concerned that Republicans were making coverage for people with pre-existing conditions "in name only," and that even $50 billion in new funding for high-risk pools would be "a little baby down payment."
Those members are key because the GOP can only afford to lose 22 votes, and there have consistently been about 20 firm "no"s.
Two senior officials told Politico that if there are modifications coming, they "can't be that significant, or we will lose the support from the Freedom Caucus."
Representative Charlie Dent, chairman of the moderate Tuesday Group, told the Huffington Post that he's worried Republicans are setting a bad precedent by making concessions to conservatives to get the bill out of the House. The Senate is likely to push the legislation back to the center, and then the House Freedom Caucus would ultimately reject the bill over those changes.
"All this political capital is being expended on the first launch, knowing damn well that on the battle that matters — the last one — you won't get the support of those very same people," he said.