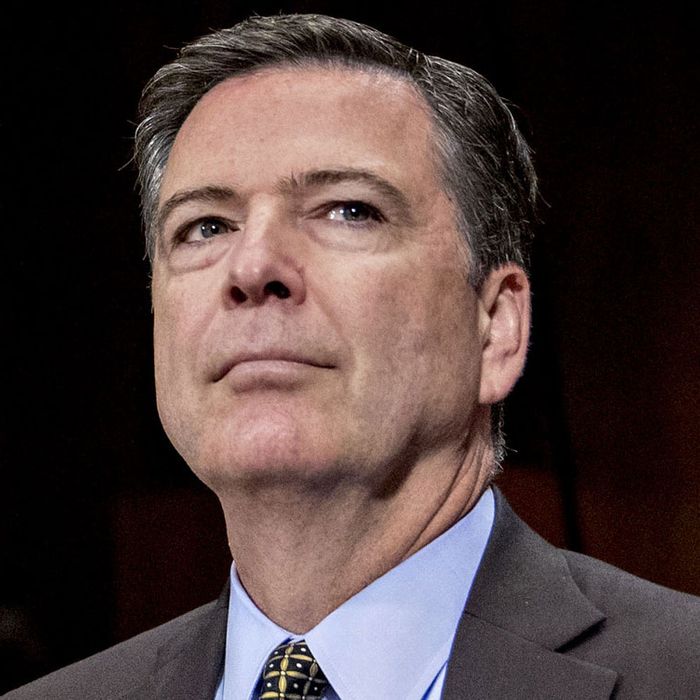 James Comey carefully let three associates know right away about the Oval Office meeting, and also his reluctance to notify the Justice Department about it.
Photo: Andrew Harrer/Bloomberg via Getty Images
If, as is widely expected, Thursday's Senate Intelligence Committee testimony by former FBI director James Comey revolves around his allegations that President Trump crossed many lines in trying to shut down the agency's investigation of Michael Flynn's Russia contacts, it appears Comey will have three powerful witnesses to his side of the story.
According to a report from Murray Waas at Vox, within two days of Comey's fateful meeting with Trump in the Oval Office, he relayed his account of what Trump asked him to do (or undo) to three top FBI associates: Deputy Director (and now Acting Director) Andrew McCabe; Chief of Staff Jim Rybicki; and General Counsel James Baker.
McCabe, as it happens, is scheduled to testify before the same Senate Intelligence Committee today, though up until now probably no one knew he could pre-corroborate Comey's testimony tomorrow. But whether or not the committee gets into this issue with McCabe, his and the other two men's recollections and notes about the Comey-Trump meeting will be of great interest to special counsel Robert Mueller, who knows them all well.
What makes the corroborating accounts so likely to come up when Comey testifies is the fact that Republicans on the committee apparently plan to make his failure to notify the Justice Department of Trump's alleged indiscretions grounds for doubting his story. The meetings he held with his three subordinates were largely about that issue:
One senior law enforcement official familiar with the matter said that Comey specifically sought legal advice from Baker about when and how to tell the DOJ about Trump pressing Comey to shut down the Russia probe. The same official said that Comey and Baker had more than one discussion about the matter, and that Baker almost certainly made extensive notes about those deliberations.

Both Comey and Baker sought the advice of Rybicki and McCabe as to whether to inform the Justice Department of Trump's pressure of Comey to shut down the Russia probe, according to this same official. All four of them had reservations about doing so because they did not fully trust Attorney General Jeff Sessions — and because the events were unprecedented in their experience.
So for Comey, these discussions not only provide a contemporaneous record of his account of the meeting with Trump, but also documentation that he did not lightly refuse to notify his nominal superiors at the Justice Department. As Waas notes, "[t]he three officials in question are all lawyers — and, likely, note takers." They will have their ducks in a row when called upon to tell their, and Comey's, stories.