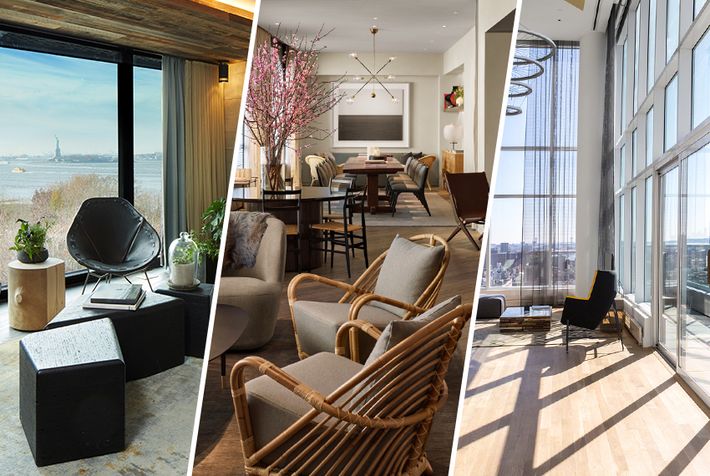 In the summer months, the hubbub of downtown Manhattan's streets tapers as hoards of locals head to the Hamptons and the Catskills. But, getting out of town isn't the only way to enjoy summer in New York — in fact, staying in the city can be surprisingly idyllic. This summer, consider changing up the scenery: Explore a new neighborhood and venture outside the comfort of your borough (or, let's be honest, your block) for a little R&R, sun-seeking, and pampering.
An upcropping of trendy boutique hotels means there are plenty of options to choose from for a mini staycation. These accommodations come replete with amenities like rooftop lounges, private screening rooms, complimentary bikes, and breathtaking cityscape views.
Below are a few particularly unique hotel options from Booking.com for an unforgettable summer staycation in New York. If you're looking for something a little more homey, but still a change of scenery, know that Booking.com also offers a range of properties – like entire apartments and homes.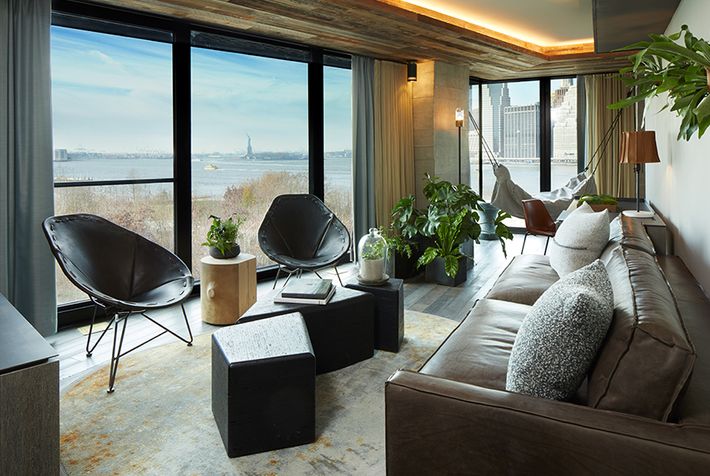 There's no need to head upstate to get a solid dose of nature. At 1 Hotel Brooklyn Bridge, elements of the outdoors are infused into each room, with every detail meticulously engineered to meet the highest standards of eco-consciousness, right down to the hemp-blend mattresses and organic sheets. Rooms are constructed with reclaimed materials, many parts of the hotel's aesthetic are crafted by local artists, and, in true Brooklyn fashion, the snack stand downstairs serves farm-to-lobby delicacies like fresh produce and granola.
The hotel also offers complimentary Tesla rides for guests (or a valet for your bike), and pet-friendly rooms — so spend your dog-sitter fund on more pampering.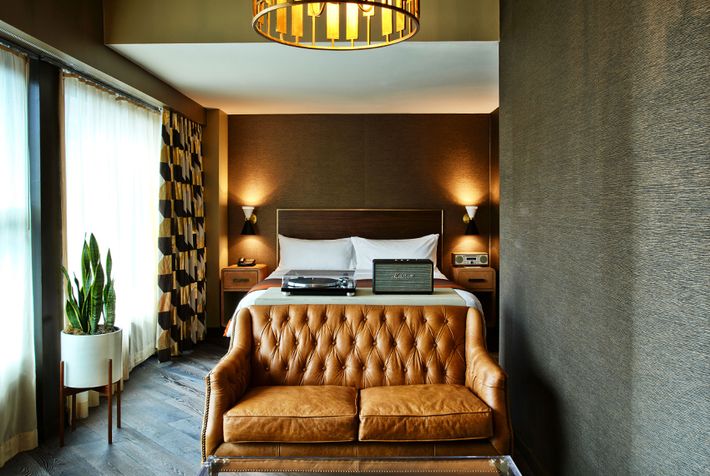 Over the course of the past decade, Tribeca's industrial vibe has been supplanted by a slew of star-studded loft apartments. But you don't have to be rich and famous to get a taste of the lifestyle – just book a staycation at the Roxy. It's a particularly appealing spot for film buffs: Guests can borrow complimentary iPads to watch their favorite movies in the Roxy's 100-seat private screening room. Top it off with in-room dining and a custom bathrobe, and there's no need to venture outside for a solid 72 hours.
But, for those inclined to explore, the Roxy also has relationships with a few renowned local businesses, like a partnership with the Aire Ancient Baths and Blackstones salon located downstairs. The hotel also provides guests with bikes for those seeking a more active itinerary.
(Side note: The Roxy also takes the cake for the most unique perk on this list: They offer guests a "complimentary pet goldfish" upon request.)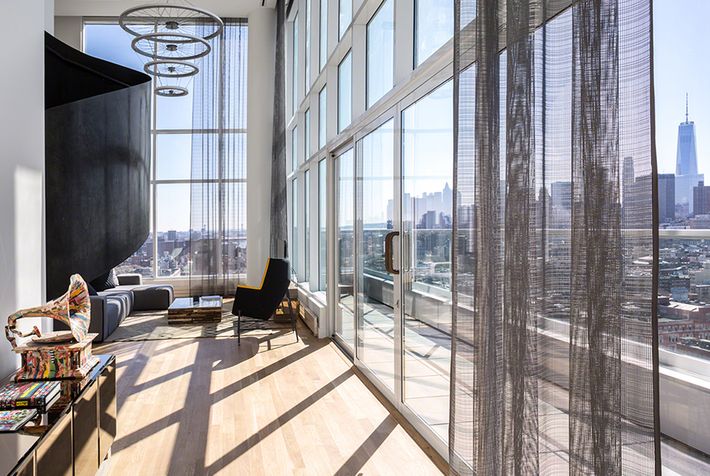 Modern decor, creative dining, and craft cocktails at the upscale lounge Mr. Purple are just a few of the features of this elegant urban oasis. Guests can also take a dip in the open-air pool or peruse the hotel's rotating schedule of art installations that ornament the halls and lobby.
While the Indigo LES exudes laid-back luxury, it's also the perfect launch-pad to explore the vibrant Lower East Side. For those looking to take advantage of the neighborhood's storied party scene, this is the ideal spot to post up for a long weekend of late-night adventuring.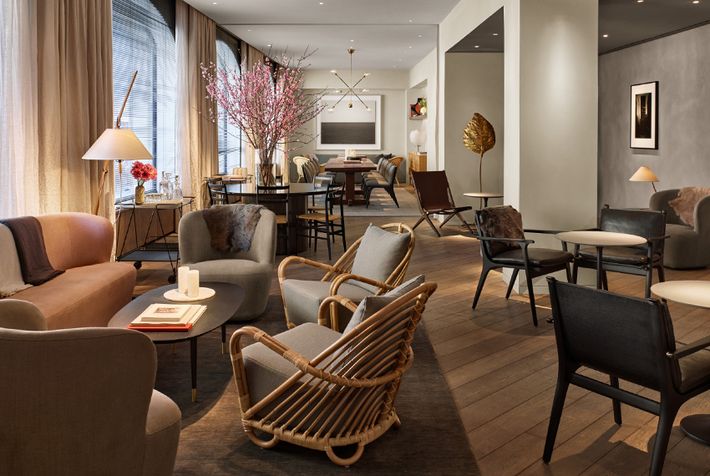 Hotel 11 Howard is located optimally for those who want to taste-test a few NYC neighborhoods with very different culinary vibes: It's just next door to Soho, Bowery, Chinatown, and Little Italy.
Or, stay within the confines of the hotel and transport yourself to another world entirely. With Scandinavian-inspired decor, artwork by Japanese photographer Hiroshi Sugimoto adorning the walls, and one of our favorite French restaurants on site (Le Coucou – we recommend the fish stew), this spot is truly a melting pot of style, culture, and indulgence. Not to mention the hotel collaborates with socially impactful organizations around the globe to live up to its mission of "conscious hospitality."
The second floor of the building also hosts The Library, a lounge and "reinvented social space" for everything from business meetings to afternoon tea. Stop by Tuesday, Thursday, or Saturday evenings from 6-7 p.m. for a glass of complimentary wine, and keep the party going at The Blond, the upscale lounge on the hotel's property.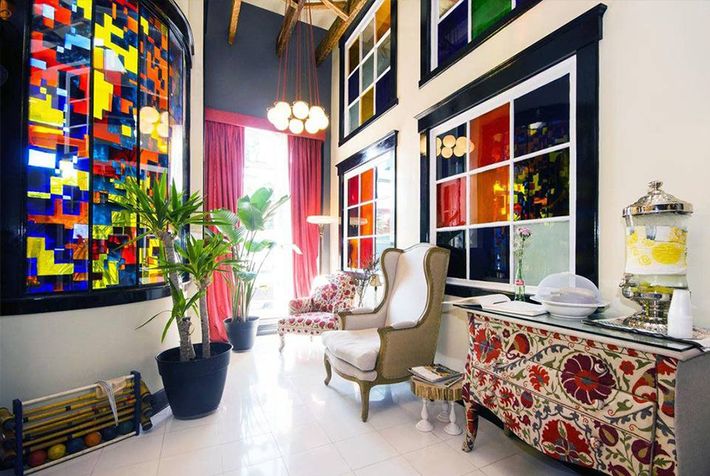 Brooklyn's boutique hotel scene is on the up and up, and staycation-seekers need look no further than The Box House for proof. Bright and contemporary apartment-style rooms provide guests with a beautiful home away from home. A converted factory, the hotel's funky vibe includes hat-tips to Brooklyn nostalgia, like complimentary shuttle rides in classic 1970s checker cabs for guests.
Book in advance for a room with a terrace and stunning views of Midtown. Speaking of which, Manhattanites, don't let the hotel's location deter you. It's just a few minutes' walk from Brooklyn's Vernon-Jackson and Greenpoint stations, and an easy 15-minute subway ride back to your beloved borough.

This is paid content produced for an advertiser by New York Brand Studio. The editorial staff of Daily Intelligencer did not play a role in its creation.