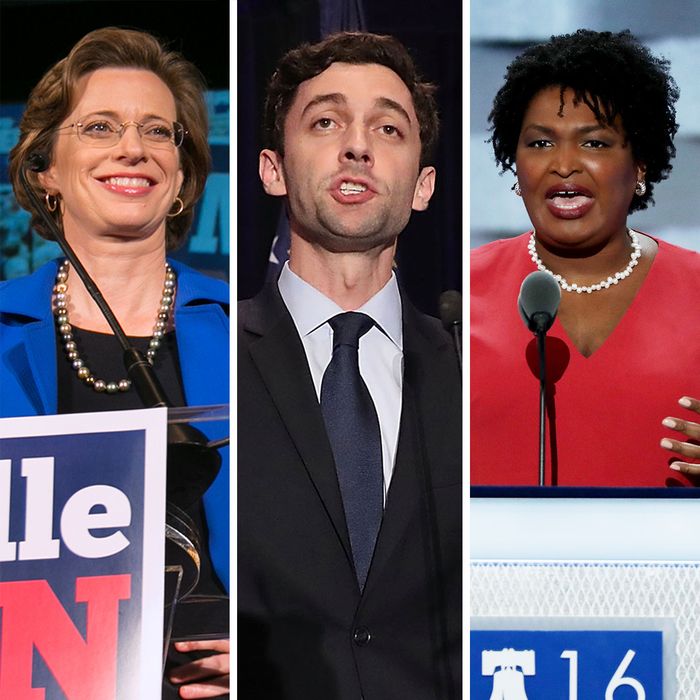 Michelle Nunn and Jon Ossoff were two of the Georgia Democratic Party's most recent Election Night disappointments. 2018 gubernatorial candidate Stacy Abrams thinks they were barking up the wrong demographic tree.
Photo: Getty Images
Last night was an excruciating evening for activist Democrats everywhere who had been riveted by Jon Ossoff's special-election campaign in the Sixth District of Georgia. This was supposed to be a breakthrough win in a famously Republican district, represented most recently by a Trump cabinet member and back in the day by Newt Gingrich during his speakership. Ossoff came very close to winning the thing without a runoff in the first round in April. He led in most runoff polls. He had bottomless barrels of money, a huge staff supplemented by an army of volunteers, and a legendarily relentless field operation.
But instead of a win, it was a loss, made worse by Donald Trump's gloating and quick second-guessing from fellow Democrats.
Democrats from outside Georgia will move on to other contests in other places. For Georgia Democrats, though, the Ossoff loss was just the latest in a long line of disappointments. Old-timers remember Georgia as the state that had never voted for a Republican presidential candidate until Barry Goldwater came along in 1964. More recently, in the latter days of the 20th century, Georgia kept electing Democrats to statewide office. Bill Clinton won the state in 1992 and came close in 1996. The state even boasted the rare accomplishment of electing two African-American Democrats (Attorney General Thurbert Baker and Labor Commissioner Mike Thurmond) to statewide offices, three times each.
But beginning in 2002, it all started falling apart for Georgia Democrats. That year two heavily favored Democratic incumbents, Gov. Roy Barnes and Sen. Max Cleland, lost in upsets. Democrats lost control of the state legislature soon thereafter. When Sen. Zell Miller, already a Democratic apostate, retired in 2004, Republicans began to systemically take over statewide offices, and hold them all today.
Like their counterparts in other Deep South states, Georgia Democrats were thwarted by the ideological sorting out of the two major parties, with white rural, small-town, and outer-suburbs conservatives trending rapidly toward the GOP. The old formula for statewide success among Georgia Democrats in the post–Civil Rights era had been 40–90 — 40 percent of the white vote and 90 percent of the African-American vote. As the 21st century unfolded, the Democratic share of the white vote steadily sank. John Kerry won 23 percent of white voters in Georgia in 2004, and more alarmingly, moderate-conservative white Democratic gubernatorial candidate Mark Taylor won 27 percent of the white vote in 2006.
But Georgia was not Mississippi or Alabama. A steadily growing minority population (partly the result of an influx of African-American transplants to Atlanta, and partly the result of a very diverse immigrant population) gave Georgia Democrats new hope that they could win even with a depressed share of the white vote. There were false dawns: In 2008, Democrat Jim Martin knocked incumbent Senator Saxby Chambliss into a general-election runoff (Georgia requires majorities for both primary and general-election wins) — but Chambliss won the runoff by a landslide. In 2014, Democrats were very excited by the two candidates at the top of the ticket: political scions Jason Carter (President Carter's grandson, running for governor) and Michelle Nunn (Sam Nunn's daughter, running for his old Senate seat). They ran what one might call an updated version of the old Blue Dog strategy for winning in the South: aiming at the center on most policy issues but in a socially progressive context with zero discomfort about reaching out to minority voters.
In a disappointment for Democrats that felt a lot like last night's, Carter and Nunn lost by identical eight-point margins and won an identical 23 percent of the white vote.
Still, there was a general sense in Georgia and nationally that the Peach State was demographically destined at some point to join Virginia, Florida, and North Carolina as southern outliers where Democrats were highly competitive in both national and state elections. In 2016, some thought the great day had arrived when the Clinton campaign flirted with making a play for Georgia in the general election. Disappointment reigned again: Even though the nonwhite portion of the electorate grew to 40 percent, Clinton lost the white vote 21/75 and only took 46 percent of the total vote. Eyebrows were raised when she came surprisingly close to beating Donald Trump in the North Atlanta suburban enclave of the 6th congressional district. And that led eventually to the startling challenge mounted by Jon Ossoff when Rep. Tom Price resigned to join Trump's cabinet.
Undoubtedly some of the Democratic activists who were unhappily watching the returns from GA-06 last night were veterans of similarly disappointing election nights in 2016, 2014, or earlier. This was not an evening for any kind of public recriminations — but underneath the surface there was grumbling that the Ossoff campaign had devoted too many resources to chasing (even harrassing!) upscale white suburban voters and too little effort to finding, registering, and mobilizing the district's relatively small but rapidly growing minority population.
Georgia Democrats will soon hear more talk like that as the Democratic leader in the state House, Stacey Abrams of Atlanta, pursues a gubernatorial run in 2018. Abrams, a 43-year-old African-American with rural roots, has gotten considerable national attention for her voter-registration efforts — which have led to frequent collisions with Republican election officials she credibly accuses of voter suppression. But she's also well-known for arguing that the path to revival for southern Democrats is through aggressively expanding the party's minority base instead of endlessly chasing white voters whose willingness to support them is limited. As Abrams recently told The Nation:
"There are two theories of the case, running in a red state," she says. "You convince conservative voters who left the party years ago to come back, by offering them a candidate who appeals to the value system they hold to be true. But if you look at Georgia, that's about 23 percent of our base. John Kerry, Barack Obama, Michelle Nunn — they all got about 23 percent of the white vote. The likelihood that we can increase that by the margins necessary to win statewide is a theory I do not share."




"I look instead at the greenfield opportunity of other progressive voters: African Americans, Latinos, Asians, and some white voters who don't vote. I believe the alternative theory of the case, and one we've never tried in Georgia, is to cultivate voters who've never been reached."
This is obviously music to the ears of Bernie Sanders–style national progressives who have expressed a disdain for "centrists" generally and the Jon Ossoff strategy specifically. So it's no surprise Abrams's campaign is attracting early national support from left-bent groups and politicians, along with a good number of her legislative colleagues. More generally, as my colleague Rebecca Traister reports, Democrats in Georgia and elsewhere, regardless of ideology, are wondering if Abrams is right that Democrats ought to hunt where the ducks are instead of endlessly pursuing voters who are in an entirely different pond.
But Abrams won't win the 2018 gubernatorial nomination, or the argument about how to win in the South, without a contest. Another state legislator, Stacey Evans of Smyrna (a close-in suburb in, as it happens, GA-06), is challenging Abrams, and championing something closer to the Carter-Nunn-Ossoff strategy, though with a progressive ideological twist. She's accusing Abrams of selling out low-income Georgians back in 2011 by helping Republican governor Nathan Deal reduce funding for the famous HOPE scholarship fund, the Zell Miller legacy initiative that has given millions of Georgians access to tuition-free college and technical education. That is interesting in part because HOPE was a big vote-winner in the Atlanta suburbs for Miller, helping him survive a GOP tide in 1994. And you get the impression that Evans looks at Ossoff and sees someone who, while losing, showed how to increase that 23 percent of the white vote enough to make a statewide victory possible.
So Georgia Democrats could soon witness a battle between two young women named Stacey — one white, one black — who are by Georgia standards both progressives but are offering competing visions for their party. Democrats in other Deep South states should pay close attention. Some day soon, the regular disappointments could end.