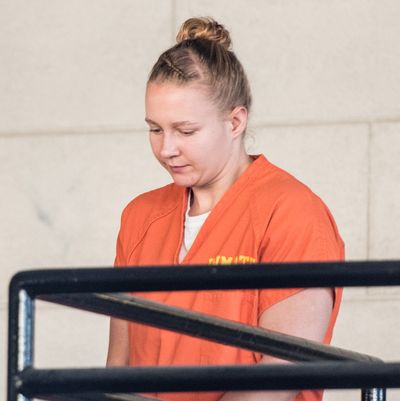 Reality Winner exits the Augusta Courthouse on June 8, 2017.
Photo: Sean Rayford/Getty Images
Reality Winner, the 25-year-old intelligence contractor accused of leaking a classified document to the press, pleaded not guilty to one count of "willful retention and transmission of national defense information" during a detention hearing in Augusta, Georgia, on Thursday. She was denied bail.
Details suggest that the document in question was the basis for a report from the Intercept on Monday about cyberattacks carried out by Russian government hackers against a U.S. voting software supplier before the presidential election. The Justice Department announced that Winner had been arrested about an hour before the story was published on Monday.
The criminal complaint said Winner admitted to FBI agents that she printed out a classified report and mailed it to an online media outlet. At the hearing, Assistant U.S. Attorney Jennifer Solari elaborated, saying Winner admitted to sending the report "to a particular news agency she admired,"and had expressed that "she was underwhelmed with what Wikileaks had to offer."
"She couldn't understand why this document hadn't been leaked already," Solari added, according to NBC News.
Prosecutors also said that during a phone conversation with her mother while in custody, which was recorded, Winner said, "Mom, those documents. I screwed up."
Solari argued that Winner's use of the word documents suggests she may have taken more classified information.
Authorities are searching a number of electronic devices seized from Winner's home, including two laptops, a tablet, and four cellphones — as well as two spiral-bound notebooks. Prosecutors claim that Winner wrote, "I want to burn the White House down" in one of the books, and also listed the names of several Taliban and al Qaeda leaders, including Osama Bin Laden.
Before becoming an intelligence contractor, Winner spent six years in the Air Force, providing real-time translation to Americans conducting field missions. She speaks Farsi, Dari, and Pashto, and was assigned to the NSA at Fort Meade, Maryland, for four years.
Prosecutors claim that while she was still in the Air Force, she searched for the phrase "Do top secret computers detect when flash drives are inserted?" on her work computer.
Winner's parents have emphasized that her service to the country should be taken into account, even if it's proven that she leaked classified documents. "If she made this mistake," said her stepfather Gary Davis, "it needs to be balanced against what she has done in the past and how she has served this country."
If convicted, Winner faces a sentence of 10 years in prison and a fine of up to $250,000.