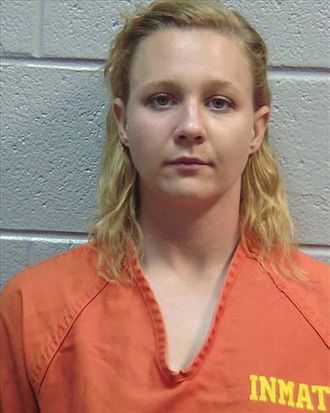 Reality Winner's mug shot.
Photo: Lincoln County Georgia Sheriff's Office
Reality Winner, the 25-year-old government contractor charged this week with leaking top-secret information to the press, intends to plead not guilty at her detention hearing on Thursday, according to her court-appointed attorney, Titus Nichols.
The criminal complaint asserts that as FBI agents searched Winner's home on Saturday, she admitted to printing out a classified report, removing it from the U.S. government facility in Georgia where she works, and mailing it to an online media outlet.
The details in the case suggest that she is the source for the Intercept's story on Monday about a May 5 NSA intelligence report that describes two cyberattacks carried out by Russian government hackers against a U.S. voting software supplier before the 2016 election. However, Nichols emphasized that those details have yet to be confirmed.
"There's not much to comment on right now as far as whether there is a connection between my client and Intercept," Nichols told NPR. "I know that there is documents circulating on the internet and everything else, but as far as concrete proof, we're just not at that stage, yet."
Nichols told CBS News that he hopes to have Winner released on bond. "We have the burden of showing that my client is not a risk of committing new offenses, that she's not a risk of fleeing," he said.
Winner's family made the case for her release in several media interviews. Her stepfather Gary Davis noted that she served six years in the Air Force, provided real-time translation to Americans on field missions, and received a commendation for aiding in the death of more than 100 enemy combatants and the capture of another 250 combatants. He called her a "patriot" and said that if she actually did leak information to the press, "it needs to be balanced against what she has done in the past and how she has served this country."
"She served her nation with distinguished honor. And that's who Reality Winner is. It's not the person that's being portrayed. She is a winner," Gary said. "She's, she's our winner."
Winner's mother, Billie-Jean Davis, said she's worried the Trump administration — which has been focused on shutting down the constant stream of leaks — is going to try to make an example of her. "Her words to me were that she was really scared that they would make her disappear," Davis said.