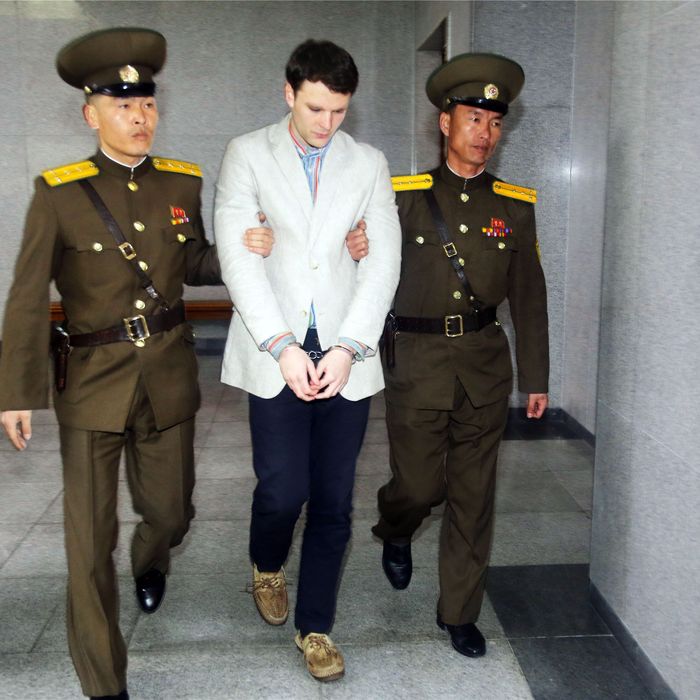 Otto Warmbier arriving at his trial last March.
Photo: Lu Rui/Xinhua/Getty Images
An American student who's been imprisoned in North Korea for 17 months was sent home Tuesday, Secretary of State Rex Tillerson said. The 22-year-old is being medically evacuated and has been in a coma for over a year, his parents told the Washington Post.
Otto Warmbier was arrested in January of 2016 at Pyongyang's airport while on his way home from a visit to North Korea. Authorities said he was caught on camera trying to steal a propaganda banner from a hotel. After a one-hour trial in March, he was sentenced to 15 years of hard labor.
The circumstances of Warmbier's medical condition remain shrouded in mystery. His family was told by the North Korean regime that he contracted botulism after his trial last March and was "given a sleeping pill, from which he never woke up," the Post reports. They were told that he's been in a coma ever since.
Warmbier is expected to arrive in Cincinnati, his hometown, Tuesday night. "The brutalization and terrorism the North Koreans have put upon Otto and the Warmbier family have ended. Thank God," his parents told CNN.
Warmbier's surprise release comes on the same day that former NBA star Dennis Rodman arrived in Pyongyang. The former contestant on Celebrity Apprentice has become friendly with North Korean leader Kim Jong Un and some suspect he is carrying a message from President Trump, who's praised Rodman's engagement with Pyongyang in the past.
Officials who worked on Warmbier's release told the Post that Rodman had nothing to do with it though.
Officials involved in securing Warmbier's release told The Post that it had nothing to do with Rodman's trip to Pyongyang, calling it a "bizarre coincidence" that might have been a deliberate ploy from North Korea to distract from Warmbier's condition.
After Warmbier's release, there are three Americans currently in custody in North Korea.