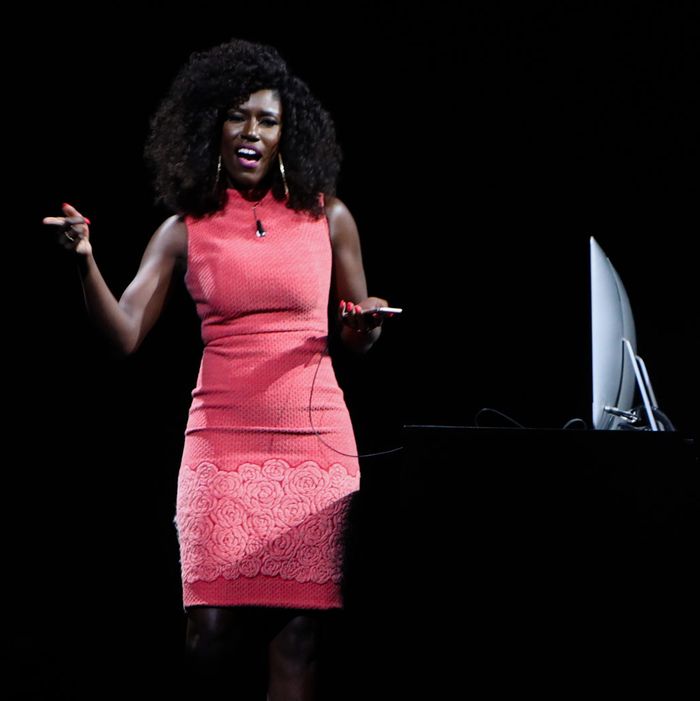 Bozoma Saint John presenting at Apple's WWDC in 2016.
Photo: Gabriellle Lurie/AFP/Getty Images
Following yesterday's news that the company hired Frances Frei from Harvard Business School to be its first SVP of leadership and strategy, Uber appears to also be bringing Bozoma Saint John into the fold. Previously, Saint John headed up Apple Music's global consumer-marketing division and was just about the best thing to ever happen onstage at a WWDC, when she mocked a crowd of techies at the 2016 conference for their inability to clap on the beat. News broke last week that Saint John was leaving Apple, but until today there was no word on where she'd be heading. Now we know: Uber, according to a report from TechCrunch.
"The company, we understand, views the appointment as important in helping 'turn the tide on recent issues,'" TechCrunch reports. An Uber representative told Select All that Saint John will be taking on the role of chief brand officer at the company. "Boz has a long track record of successfully creating emotional connections between people and the products they love," Travis Kalanick said in a statement. "Her creativity and deep understanding of consumers will allow us to build the same love and appreciation for Uber's brand as we've built for Uber's service."
News of Saint John's hiring is, um, let's say timely. Uber is expected to release a report overseen by former U.S. Attorney General Eric Holder that delves into sexual harassment at the company. The report has already been seen by Uber's board, and the company is reportedly having an all-hands meeting today to discuss the report, or at least parts of the report. Allegations of rampant harassment and discrimination at Uber began surfacing earlier this year after a former Uber engineer, Susan Fowler, published a damning blog post about her year at the company.
Update, June 6, 2017, at 4:06 p.m.: This post has been updated to include statements from Travis Kalanick and Uber.