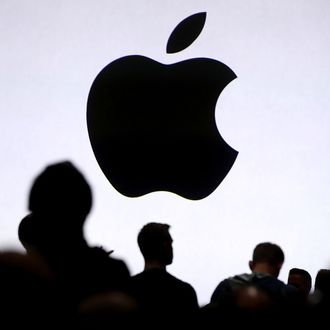 Photo: Justin Sullivan/Getty Images
Today marks the start of Apple's annual Worldwide Developers Conference in California. If you're a true Apple fan or Tim Cook–phile, chances are you probably tuned into the hours-long livestream to get the latest on Apple's new operating systems, Siri-enabled home speaker, and hints about a forthcoming iPhone update. If you're not a true fan, or just had something better to do for several hours on Monday afternoon, we've rounded up the top-ten things you missed at today's big event. Though it's hard to re-create the joy that is Tim Cook saying the word "badass."
1. You can now binge-watch
Man in the High Castle

on your Apple TV.

Kicking off the announcements, Apple CEO Tim Cook told the WWDC crowd — to ample applause — that the company is partnering with Amazon for its TV app. Amazon Prime Video (Cook mentioned Amazon's Transparent as one of the deal's many offerings) will be available on Apple TV later this year. (No formal release date yet.)
2. Apple Watches are getting a face-lift.
The company introduced three new watch faces today. The first, Siri Face, uses machine learning to provide the wearer with useful information, like pulling up passes from the wallet app for events, offering traffic reports for a daily commute, or showing photos from the same date the previous year. For more aesthetic-based changes, Apple has a new kaleidoscope face option and a suite of three characters — Woody, Jessie, and Buzz — from Toy Story.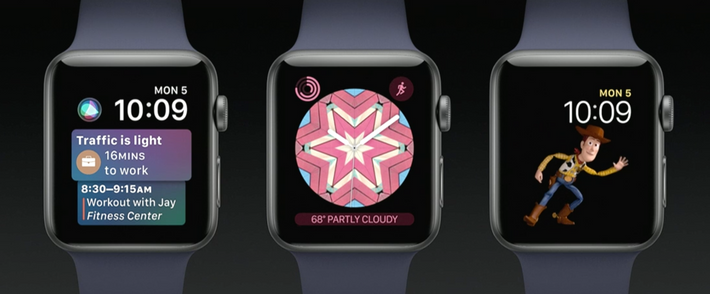 3. The new operating system is "fully baked."
Apple's latest operating system will be called macOS High Sierra — pause for giggles — and will roll out worldwide later this fall. (Public beta is coming later this month.) Software VP Craig Federighi hyped the new system for its speed and ability to store applications in significantly less space than its predecessor could. High Sierra will also offer updated photo-editing tools, and use machine learning to better sort and organize your images.
4. Say good-bye to auto-playing videos.
Safari, Apple's web browser, will stop videos from automatically playing when you open a web page, offering a "serene browsing experience." Instead, you'll have the option to play the video, if you so choose (giving you ample time to put in headphones or turn the volume down). Safari is also getting a new feature called "intelligent tracking prevention," which Federighi says will keep "your browsing history your own."
5. The "badass" iMac Pro is coming soon.
Retailing for $4,999, the newest member of Apple's iMac family, the iMac Pro, will be available in December, and promises to be the "most powerful Mac ever." It'll have a 5K display, options for up to an 18-core Xeon processor, and comes exclusively in space gray.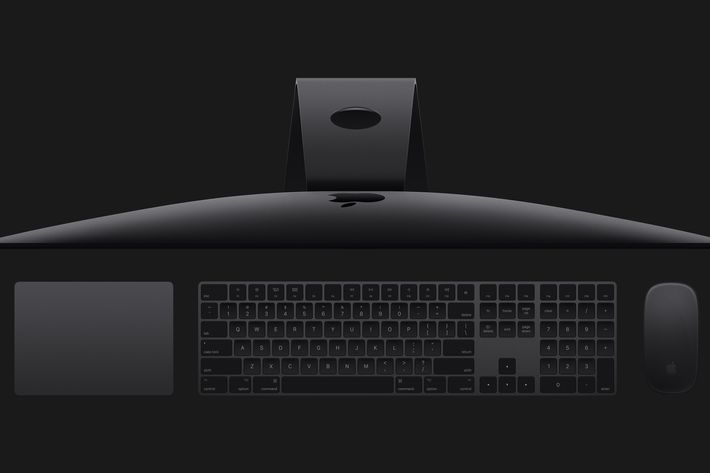 6. Apple is stepping into Venmo territory with personal payments.
Apple Pay will support peer-to-peer payments under iOS 11, Apple's forthcoming operating system. Users can send money, via a debit card, to a friend's Apple Pay cash card. From there, that money can be used to pay other people, or be deposited from the cash card to a bank account. The new feature will be available as an app in Messages for easier access. Messages will auto-populate the app as an option in conversations where transactions are being discussed. Like using Apple Pay at a store, you'll need to use Touch ID to complete a payment.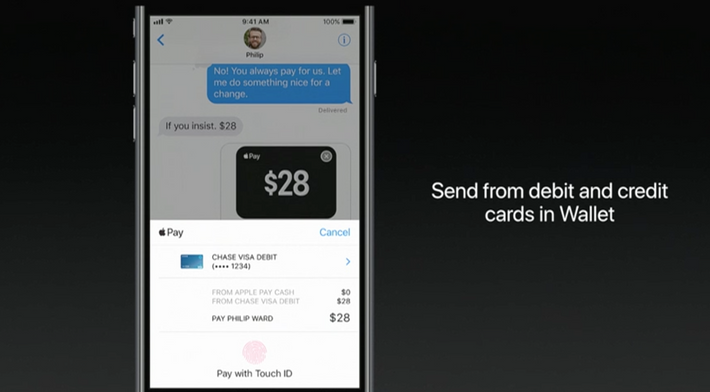 7. Siri learns some new languages; Live Photos feel more like Vines; and Apple really wants you to stop texting and driving.
With iOS 11, Apple's built-in AI can now translate sentences from English into several languages, including Chinese and Spanish. Live Photos — the moving pictures Apple introduced back in 2015 — are getting a few new editing options, including a looping one that seems highly reminiscent of our dearly departed Vine. The operating system can also detect when someone is driving a car, and will offer a "Do Not Disturb While Driving" mode that will disable notifications and auto-respond, letting people know the user is, well, driving.
8. Your control center and App Store are going to look a little different.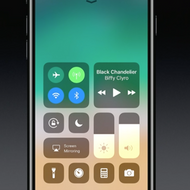 The lock screen and notification center are combined in iOS 11, and the control center — the panel you swipe up from the bottom of your screen to toggle on Wi-Fi or the flashlight — has been totally redesigned. Now, your controls all live in one panel, and there even appears to be a designated button for turning cellular on and off, independent of Wi-Fi or airplane mode. The Apple App Store is also getting a makeover, with a designated tab just for games.
9. The iPad is becoming a better laptop substitute with iOS 11.
New features for iPad on iOS 11 include a vanishing app dock that looks very similar to the one found on the MacBook, and a Files app that will make it easier to keep track of documents between devices and third-party apps like Drop Box and Google Drive. Now, iPad users can view multiple apps at once, and will be able to drag and drop — images, URLs, sentences — between apps. Apple also announced some hardware news: The iPad Pro is going to be available in a 10.5-inch model starting at $649, and shipping as early as next week.
10. And finally … the HomePods are coming.
Apple's Echo competitor, the HomePod, will ship in December. It is priced at $349 (significantly more expensive than Google or Amazon's product) and available in white and space gray. The device has six microphones — all the better to hear you say "Hey, Siri" with — and is designed to analyze the space around it and adjust the sound accordingly. In addition to being a robotic DJ, the Siri-enabled speaker will be able to tell you the weather, talk about stocks, and report the news.