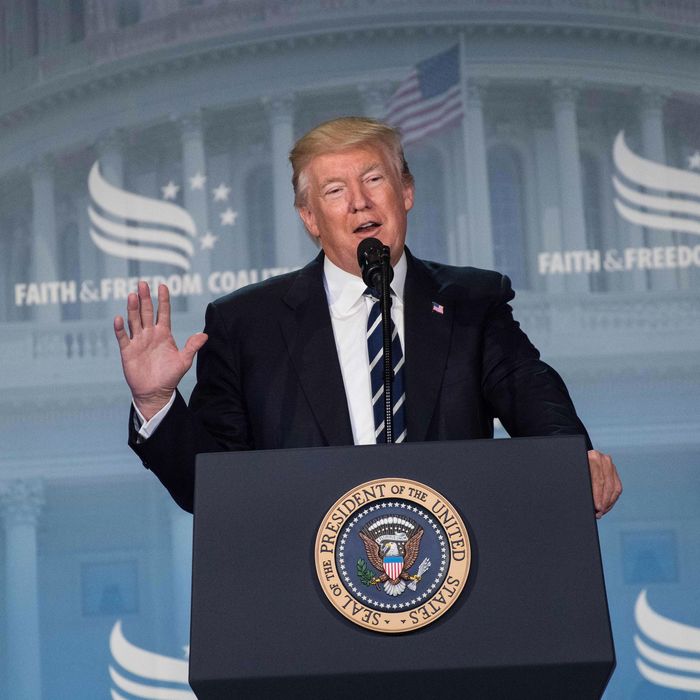 Still the president, goddammit.
Photo: Nicholas Kamm/AFP/Getty Images
President Donald Trump was onstage beneath a gilded chandelier the size of a manatee, addressing a Washington ballroom packed with conservative Christian evangelicals early Thursday afternoon. "As you know, we are under siege, you understand that," he told them. "But we will come out bigger and better and stronger than ever — you watch."
It was difficult to not hear in those words and all that flowed out subsequently a response to the events taking place at that very moment a short motorcade-ride away on Capitol Hill — though Trump never made direct mention of James Comey's damning testimony about him to the Senate Intelligence Committee.
When he first appeared before the crowd to the tune of Hail to the Chief, it seemed almost designed to serve as a reminder that, even amid questions about obstruction of justice or a cover-up of potential collusion with Russia during the campaign, he's the goddamn president.
The juxtaposition was like the baptism scene in The Godfather but much, much weirder.
The Faith and Freedom Coalition's Road to Majority Conference, held at the Omni Shoreham Hotel, was a welcome opportunity to feel at peace. The speech, though subdued, was classic Trump, with a little Jesus thrown in. Even when praising others, it was within the context of discussing his own many, "yuge" wins in life.
"Who would've known this was going to happen?" he asked, referring to the phenomenon of his November 8 election, exactly seven months ago. "But we had a feeling, didn't we?"
He attributed his victory to the "support and prayers" of those in attendance. "Wow, did you deliver," he said. "You really did."
He continued to dwell on the campaign. The doors his supporters knocked on, he said, were in "key battleground states," which was smart strategy. "You're supposed to be focusing on those states," he said, a trace of disbelief in his voice at the idea that anyone might think otherwise. He recalled the millions of messages sent by his supporters on social media, and all of the phone calls made and pieces of campaign literature distributed. "You didn't let me down, and I will never, ever let you down. You know that."
"In my first 100 days, and I don't think anybody has ever done more or certainly not much more," he claimed, in a statement that may be reasonably characterized as false witness.
He promised he was "going to battle" for "the forgotten men and women," like anyone who had lost a job, or lost "a loved one," or lost their right to express their religious beliefs.
"I have one goal as president: to fight for the American people and to fight for America and America first," he said.
And, more comfortably than he'd managed as a candidate — when he memorably admitted, in Iowa of all places, that he had never asked God for forgiveness, or when he cited "Two Corinthians" — he read scripture. "The words of Isaiah chapter one, verse 17: learn to do right; seek justice; defend the oppressed; take up the cause of the fatherless; plead the case of the widow."
He said his cause as president was "righteous," and, in an interesting choice of words, claimed that his enemies in Washington were going to "lie" and "obstruct" to get their way.
"But we will not back down from doing what is right," he said. "Because as the Bible tells us, we know that the truth will prevail. That God's glorious wisdom will shine through."