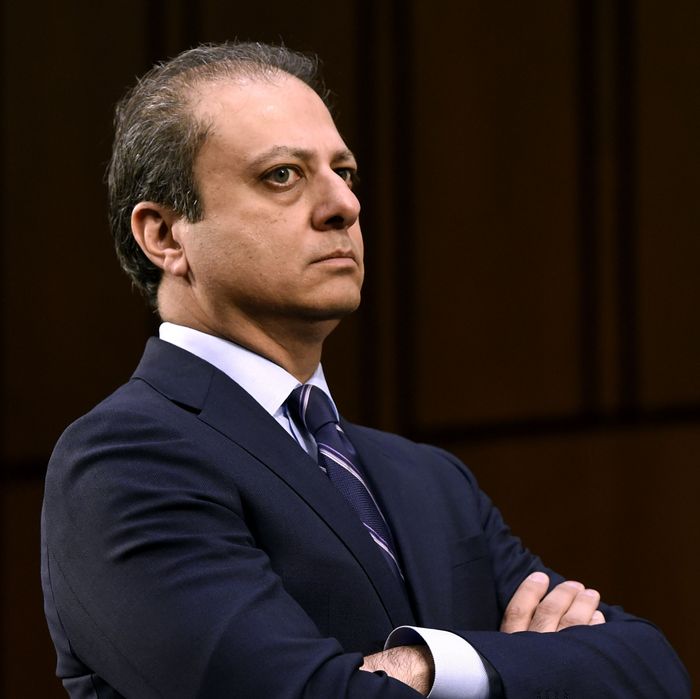 Preet Bharara, attending the Senate hearing at which former FBI director James Comey testified on Thursday.
Photo: Saul Loeb/AFP/Getty Images
Former U.S. attorney Preet Bharara told George Stephanopoulos on Sunday's broadcast of This Week that, like fired FBI director James Comey, he was also the subject of unwelcome, one-on-one political advances from Donald Trump. Trump originally invited Bharara to Trump Tower during the transition to ask him to stay on as U.S. attorney for New York's Southern District. Trump later followed up with two phone calls while president-elect, then another as president in March. After consulting with his staff, Bharara opted against returning that third call, and was promptly fired. Explained Bharara on Sunday:
I've been reading the stories of how the president has been contacting Jim Comey over time, felt a little bit like déjà vu. And I'm not the FBI director, but I was the chief federal law-enforcement officer in Manhattan with jurisdiction over a lot of things including, you know, business interests and other things in New York.
He went to note that President Obama had never called him in seven and a half years, and that distance was what he expected, "because there has to be some kind of arm's length relationship given the jurisdiction that various people had."
After the Trump Tower meeting, Trump called once in December "ostensibly just to shoot the breeze and asked me how I was doing and wanted to make sure I was okay," Bharara said, and Trump made a similar call two days before his inauguration. Bharara said that though Trump wasn't president yet, the calls still made him "a little bit uncomfortable."
Comey testified last week that he thought that Trump's efforts to talk to him privately were an attempt to build a "patronage relationship" with him, but Bharara had a slightly different take on his own exposure to Trump:

That's not the word I use. I was in discussions with my own folks, and in reporting the phone call to the chief of staff to the attorney general I said, it appeared to be that he was trying to cultivate some kind of relationship.
Nonetheless, he was troubled:
[I]t's a very weird and peculiar thing for a one-on-one conversation without the attorney general, without warning between the president and me or any United States attorney who has been asked to investigate various things and is in a position hypothetically to investigate business interests and associates of the president.
In March, Bharara received a third call from then President Trump, and this time, he consulted with his staff and alerted Attorney General Jeff Sessions's office. Sessions's chief of staff, Jody Hunt, agreed that Bharara should not speak with Trump, and Bharara decided not to return Trump's call. Then, less than 24 hours later, Trump asked him and 45 other U.S. attorneys to resign. Bharara refused, and was quickly terminated instead. "To this day I have no idea why I was fired," he said on Sunday.
Asked earlier for his views on Comey's testimony and its aftermath, Bharara said that he thought there was "absolutely evidence" to consider an obstruction of justice case against President Trump with regards to Comey and the FBI's Russia investigation. As to whom he would trust, Bharara unsurprisingly added, "When it comes down to who's telling the truth and who's not, I think most people would side reasonably with James Comey."