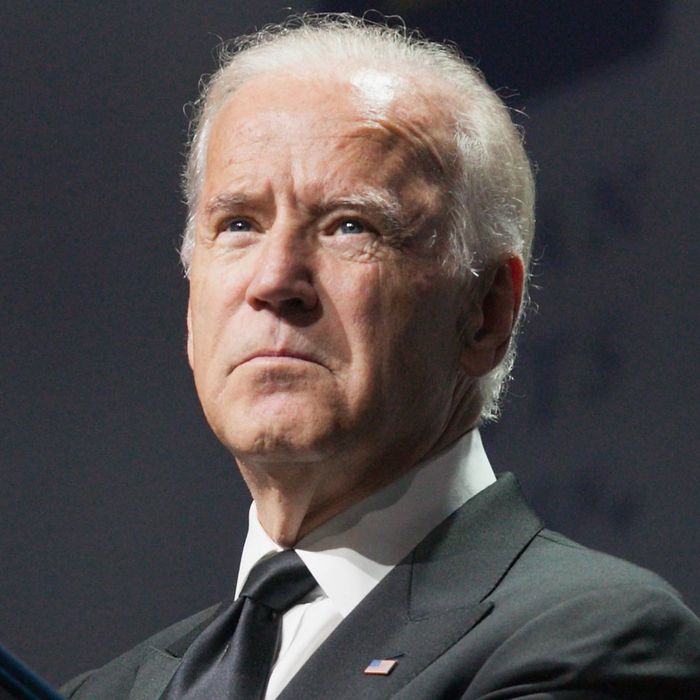 Still got it.
Photo: Teresa Kroeger/FilmMagic
Earlier this year, at the age of 74, Joe Biden finally got some time off. After more than 40 years in elected office, the former veep is now in that late stage of life during which ex-politicians give paid speeches and buy new vacation homes. Of course, this is Amtrak Joe, so his new vacation home is in Delaware.
But you'll be glad to know that Biden hasn't lost the famous fire in his belly, a point made abundantly clear by this story from Fox correspondent Charlie Gasparino.
It takes place in Vegas, at last May's SkyBridge Alternatives Conference, a get-together that was started by Trump hanger-on Anthony Scaramucci. This is the same event at which Biden said Hillary Clinton was "never a great candidate," unlike himself.
The topic of Biden's potential 2016 run came up again at a private dinner during the event, where Jeb! Bush himself asked Biden why he didn't take a crack at the presidency.
He reportedly gave an emotional answer about the 2015 death of his son Beau Biden, then stopped himself. "I'm sorry … I've said enough," Biden said.
As Gasparino reports, hedge-fund billionaire Bill Ackman, best-known for some famously bad bets, then said, "Why? That's never stopped you before."
Biden, these people say, turned to someone seated near him, and asked, "Who is this asshole?" — a reference to Ackman.

 

Then he turned directly to Ackman and stated, "Look, I don't know who you are, wiseass, but never disrespect the memory of my dead son!"

 

Ackman attempted what was described as an apology, to which Biden said, "Just shut the hell up."