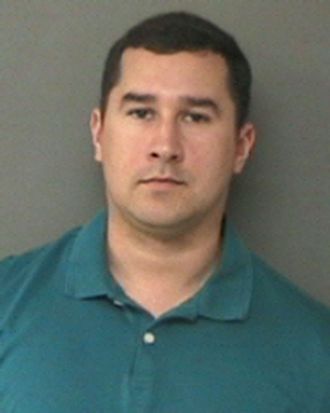 Brian Encinia.
Photo: WALLER COUNTY SHERIFF'S OFFICE
The only criminal charge against the former Texas trooper who arrested Sandra Bland prior to her 2015 death in police custody was dismissed on Wednesday.
A grand jury indicted Brian Encinia on one charge of misdemeanor perjury for making false statements about Bland's arrest. In a one-page affidavit, he said that after pulling the 28-year-old over for failing to signal a lane change, he asked her to step out of her vehicle to "further conduct a safe traffic investigation." Encinia said Bland was "combative and uncooperative," and after she was removed from her car and handcuffed she "began swinging her elbows" at him, and kicked his shin.
A widely viewed dashcam video of the arrest showed Encinia point a Taser at Bland and say, "I will light you up." Some of the altercation occurred outside the camera's view, but at one point Bland is heard saying, "You just slammed me, knocked my head into the ground." When she says she has epilepsy, Encinia replies, "Good."
Three days after her arrest, Bland was found hanging in her jail cell. Her death was ruled a suicide, but her family said they suspected foul play. Nationwide protests erupted, and her death became a symbol of the mistreatment of black people by the police.
The perjury charge was dismissed after special prosecutors assigned to the case reached an agreement with Encinia: in exchange for dropping the perjury charge he agreed to "never seek, accept or engage in employment in any capacity with law enforcement." Encinia was fired by the Texas Department of Public Safety in March 2016.
Cannon Lambert, a lawyer for Bland's family, said prosecutors had told them they wanted to go to trial, and they were "completely blindsided" by the dismissal.
"In September, we were expecting to be in Texas sitting in the courtroom, but today they cut him a deal," Shante Needham, Bland's eldest sister, told the Houston Chronicle. "Why? Why? Why? Why did you cut him a deal when you sat in our faces and you seen our pain and you told us you were going to take it to court?"
Phoebe Smith, one of the special prosecutors, said they didn't want to risk having a jury acquit Encinia.
"We dismissed it based on the fact that he permanently surrendered his license," she said. "The bottom line is, we never wanted him to be a police officer again and we wanted to ensure that outcome. When you take a case in front of jury there's always that risk."
Encinia's lawyer, Chip Lewis, said he couldn't return to police work anyway after the nationwide attention the incident received.
"He was never going to be a police officer after this saga," Lewis said. "He cares too much about his family and the law enforcement community as a whole. There would be a [large] target on his back and he's not going to do that."
"Brian and his family appreciate the thoughtful review by the prosecutors," Lewis said in a statement. "Dismissal was the right thing to do. The Encinias will remain forever grateful to their family, friends and members of the law enforcement community for all their support."