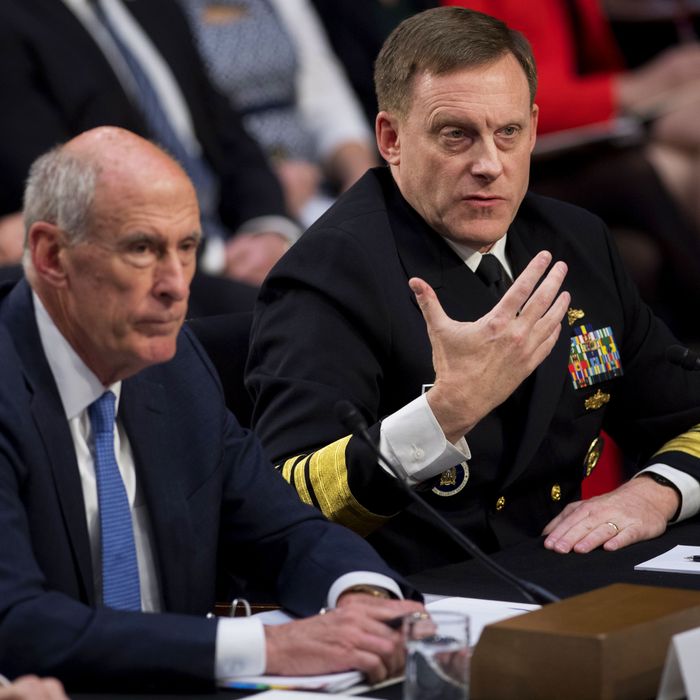 Coats and Rogers in early June.
Photo: Saul Loeb/AFP/Getty Images
Two top intelligence chiefs have told investigators that President Trump asked them to publicly refute any collusion between his campaign and Russia, CNN is reporting.
Director of National Intelligence Dan Coats and National Security Agency Director Admiral Mike Rogers reportedly told this to both Special Counsel Robert Mueller and investigators for the Senate Intelligence Committee, shedding light on their awkward refusals to reveal conversations with Trump at a Senate testimony earlier this month.
The men thought the interactions with Trump were "odd and uncomfortable," according to CNN, and were surprised by Trump's suggestion. But they told investigators that they did not believe they were receiving an order.
In addition to asking them to knock down his links to Russia, Trump also asked Coats and Rogers to confirm that former FBI director James Comey told the president that he was not personally under investigation, CNN says. They did not take this as an order though and did not follow through on Trump's request.
These revelations go a long toward explaining the odd testimony both men gave to the Senate on June 7. Continually asked what Trump had said to them about the Russia investigation, both men kept returning to blanket statements asserting that they'd never been directed or felt pressure to do anything "illegal, immoral, unethical, or inappropriate," as Rogers put it at the time.
Pushed to clarify Trump's statements to them, they continually referred back to their vague denials, much to the frustration of senators from both parties. CNN reports that Coats and Rogers had asked the White House if it should assert executive privilege over the conversations with Trump but they didn't receive an answer in time, leaving them to squirm in front of the committee.