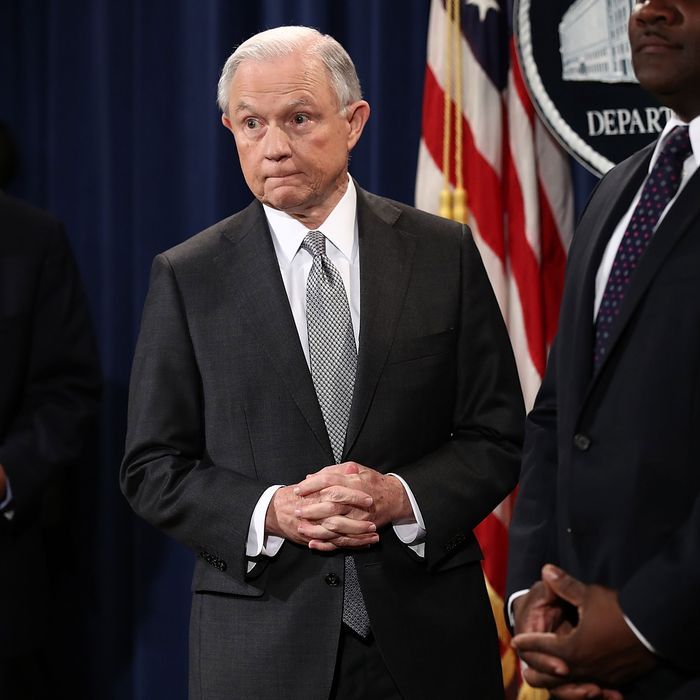 Sessions.
Photo: Win McNamee/Getty Images
In a closed hearing Thursday afternoon, former FBI director James Comey told senators that Attorney General Jeff Sessions may have had a third, undisclosed meeting last year with Sergey Kislyak, Russia'a ambassador to the U.S., CNN is reporting. Sessions, who said during his January confirmation hearing that he had no meetings with Russians during the campaign, later amended his testimony and admitted to two conversations with Kislyak. He also recused himself from the FBI's investigation into Russia's election meddling.
Information about a potential third meeting has been floating around for months. In early March, a week after Sessions recused himself from the Russia probe, the Huffington Post reported on a "likely" third meeting between Sessions and Kislyak at the Mayflower Hotel near the White House.
Last week, CNN reported that congressional investigators are looking into the possibility that this meeting took place. The Justice Department denied the meeting to CNN, saying, "The facts haven't changed; the then-Senator did not have any private or side conversations with any Russian officials at the Mayflower Hotel." But Comey's revelation that the FBI learned of a third meeting through its monitoring of Russian communications appears to confirm this reporting.
Now, Washington Democrats are out for blood. Senator Richard Blumenthal said Thursday that Sessions could be guilty of perjury if he failed to disclose a third meeting with Kislyak, and House Minority Leader Nancy Pelosi called for on him to resign.
Meanwhile, Republican senator Susan Collins said the attorney general will soon have a chance to explain himself. The Senate Intelligence Committee has asked him for an interview.