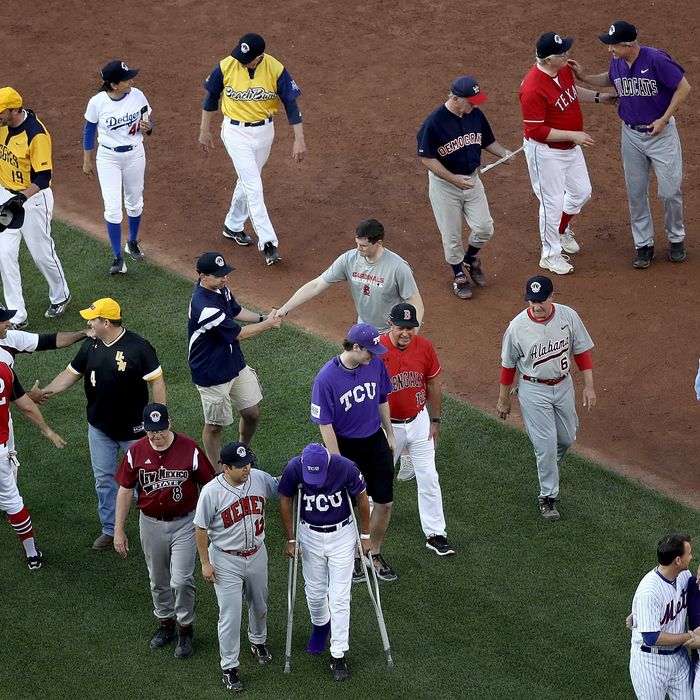 Photo: Win McNamee/Getty Images
In the stands, it felt just like any other baseball game. 24,959 tickets were sold. Crowds of people waited in line for hot dogs and Ben's Chili Bowl. They drank beer and haphazardly mixed drinks. They hollered and cheered. They waved foam fingers in the air.
It was possible to momentarily forget the horror that preceded the 2017 Congressional Baseball Game. Still, on Thursday evening, this picture of American normalcy at Nationals Park in Southeast D.C. was, in a way, an act of rebellion.
The previous morning, as members of the Republican team were practicing in nearby Alexandria, Virginia, a gunman had opened fire, shooting five people, including House Majority Whip Steve Scalise.
A few hours later, the league made an announcement: "In light of today's tragic events, tomorrow's game will be held as scheduled."
The game, played for charity, dates back to 1909 (that year, the Democrats won 26-16). In recent years, the event has served as a good-natured retreat from the ugliness of an increasingly divided Washington. And so we gathered, not far from Capitol Hill: lawmakers, staffers, political operatives, the press, and ordinary people — a historically high number of them — who felt compelled to be there.
Scalise remained hospitalized as his teammates and colleagues took to the field. Spectators held signs: TEAM SCALISE; SCALISE STRONG! And outside the stadium, amid the crush waiting to get in, there were others, some politically charged: BLUE LIVES MATTER; GOOD GUYS WITH GUNS STAND BY YOU.
The White House claimed that President Donald Trump had never planned to attend the game and, following the shooting, couldn't because of security reasons. Press Secretary Sean Spicer didn't respond when asked what the reasons were and why those concerns didn't also prevent members of Congress from attending. But First Daughter and presidential adviser Ivanka Trump was there, along with two of her children, to present a donation. And the president briefly beamed in on a jumbotron, thanking the lawmakers, their staffs, "and baseball fans across the country" for their support.
"Tonight's game has taken on a much deeper level of meaning, beyond anything that we would have thought," Trump said. "By playing tonight, you are showing the world that we will not be intimidated by threats, acts of violence, or assaults on our Democracy. The game will go on." And it did.

David Bailey, the Capitol Police officer who may have saved Scalise's life and was wounded doing so, arrived on the field on crutches. Despite his condition, he wound up and threw the first pitch to applause.
In the end, the Democrats defeated the Republicans 11-2, but Pennsylvania congressman Mike Doyle, the manager of the Dems' team, handed the trophy off to Texas representative and GOP team manager Joe Barton. It will be placed in Scalise's office.
But all of the additional ceremony was perhaps unnecessary. Just being there seemed like the biggest statement of all.