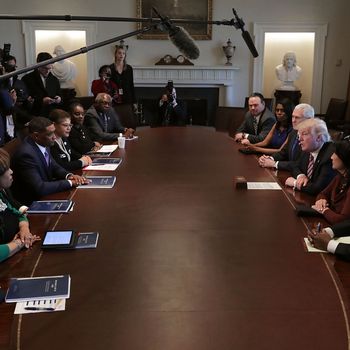 The CBC meets with Trump in March.
Photo: Chip Somodevilla/Getty Images
Three months after sitting down with President Trump at the White House to discuss, among other things, his suggestion that every black person in America is living in abject poverty, the Congressional Black Caucus has denied Trump a follow-up meeting. In a letter to Trump, CBC chairman Cedric Richmond wrote that the he and his members have gone out of their way to "educate" the Trump administration on the needs of the black community. Trump has yet to act on any of it, the letter says.
"While we agreed to explore possible future discussions when we first met, it has become abundantly clear that a conversation with the entire CBC would not be entirely productive, given the actions taken by your administration since our first meeting," Richmond wrote.
Some of the disconcerting actions Richmond cited include proposed Pell grant cuts, Attorney General Jeff Sessions's acceleration of the war on drugs, and budget cuts to HBCUs. The letter then mentions eight instances in which the CBC reached out to the White House with concerns without ever receiving a response.
Hours before Richmond's letter was published, Politico reported on the CBC's plan to snub Trump and added that it wasn't just because the White House has completely ignored them since the first meeting. They also fear that Trump will use the meeting as a photo op.
"No one wants to be a co-star on the reality show," one anonymous Democratic aide told Politico.
If the majority of the caucus were to go to the White House, the pressure to huddle with Trump in the Oval Office for a group photo could be tougher to avoid. "The entire caucus goes down there, it's sort of harder to control," the source familiar with the situation said.
The CBC felt some pressure back in March to decline Trump's initial meeting request, but Richmond pushed back. "We don't have the luxury to not meet with the president because our people are going to suffer — the 78 million we represent," he said at the time.
To advocate for those people, the group presented Trump with a 130-page briefing entitled "We Have A Lot to Lose: Solutions to Advance Black Families in the 21st Century." It's unclear if the president has read the document.