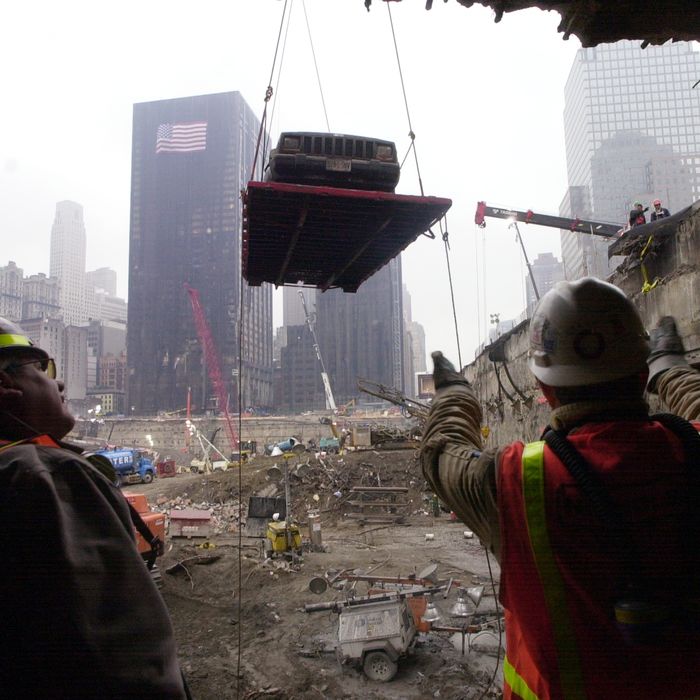 Workers direct clean up at Ground Zero.
Photo: New York Daily News Archive/NY Daily News via Getty Images
Governor Cuomo has pardoned a Queens man who helped clean up ground zero after 9/11, and is now facing deportation under President Trump's stricter immigration policies. Cuomo hopes the move will bolster his case for remaining in the U.S., but Immigration and Customs Enforcement may deport him anyway.
Carlos Cardona, came to the United States in 1986 and is now married to an American citizen, and has a 19-year-old daughter. In 1990, when Cardona was 21, he pleaded guilty to selling a small amount of cocaine to an undercover police officer and served 45 days in jail. Though he hasn't been in legal trouble since, that infraction prevented him from obtaining legal status.
After 9/11, Cardona spent four months working for a construction company hired to clean up the wreckage at ground zero. "His health ended up being affected. He has lung problems. He has gastrointestinal problems. He has psychological issues. He has a lot of anxiety," said his wife Liliana.
After he was arrested by ICE in 2011, Cardona was released and allowed to stay in the U.S. due to his respiratory problems cause by his work at ground zero. However, ICE revoked the order of supervision that let him remain in the country shortly after Trump took office.
Cardona has been in detention since February 28, days after Trump issued an order prioritizing the removal of undocumented immigrants convicted of crimes. Under the policy he could still be deported, but Cuomo's move may make it less likely.
"The governor's pardon removed the grounds for deportation, allowing Mr. Cardona and his attorney to reopen his case and show there is no longer reason for deportation," James Allen, Cuomo's communications director, said on Wednesday.
Cuomo added in a statement: "It is my hope this action will not only reunite Mr. Cardona with his wife and daughter, but also send a message about the values of fairness and equality that New York was founded upon."