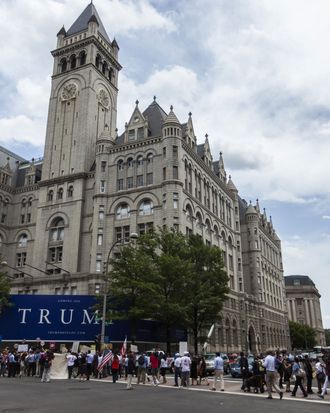 The Trump International Hotel in D.C.
Photo: Anadolu Agency/Getty Images
D.C. Attorney General Karl Racine and Maryland Attorney General Brian Frosh plan to sue President Trump for violating the Constitution's emoluments clause, which forbids federal officials from accepting payments and gifts from foreign governments. The lawsuit, first reported by the Washington Post, will argue that Trump has broken the rule by failing to "[take] adequate steps to separate himself from his business interests," particularly the Trump International Hotel in D.C. Representatives of Saudi Arabia, Turkey, and Kuwait have all patronized the hotel since Trump's inauguration, and diplomats from elsewhere clearly believe that there are benefits to staying there during visits to Washington. While Trump did once promise to donate any profits his hotels made from foreign governments to the U.S. Treasury, he appears to have backed out of that pledge.
Racine and Frosh told the Post that their suit will focus on how local venues, including taxpayer-owned and -subsidized convention centers in D.C. and Maryland might be losing customers to the Trump International. "This case is, at its core, about the right of Marylanders, residents of the District of Columbia and all Americans to have honest government," said Frosh. Racine added that the effort was intended to act as "the check and balance" that our kleptocrat-friendly Congress has so far declined to provide. If the case proceeds, the attorneys general will demand to see Trump's notoriously hidden tax returns, which would likely shed light on his relationships with foreign entities, among other things.
This isn't the first time that someone has tried to sue Trump over his refusal to divest from the Trump Organization's various holdings. Earlier this year, the watchdog group Citizens for Responsibility and Ethics in Washington, along with members of the hospitality industry, filed suit claiming that Trump's continued involvement in his company created unfair competition, breaching the emoluments clause. On Friday, the Justice Department motioned to dismiss that case, arguing that the plaintiffs lacked legal standing.