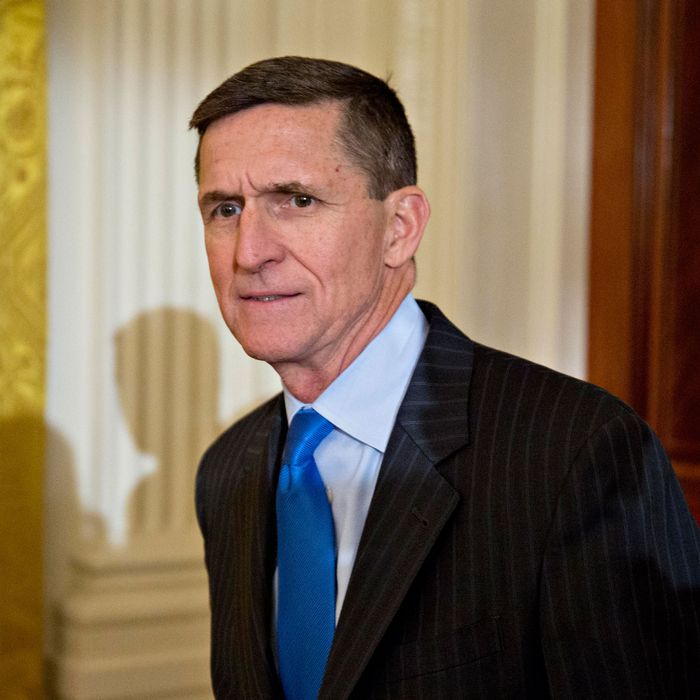 Trump thinks Flynn is a "good guy," so it's probably fine.
Photo: Andrew Harrer - Pool/Getty Images
Former national security adviser Michael Flynn is already facing legal trouble for a variety of issues related to his dealings with Russia and Turkey. These include taking payments from foreign entities without permission, failing to register as a foreign agent, and making false statements to the government about these activities.
On Monday Democratic lawmakers raised yet another potential problem: Flynn's failure to disclose a 2015 trip to Saudi Arabia to pursue a U.S.-Russian business venture to develop nuclear plants in the Middle East. They note that "knowingly falsifying or concealing a material fact is a felony which may result in fines and/or up to five years imprisonment."
Representatives Elijah Cummings and Eliot Engel, the ranking members of the House Oversight and Foreign Affairs committees, released a seven-page letter requesting documents from Flynn's lawyers and the heads of three consulting companies linked to Flynn's travel to the Middle East.
Earlier this month, Newsweek reported that Flynn flew to Israel and Egypt in the summer of 2015 to discuss a plan to build dozens of nuclear reactors in the Middle East:
In June 2015, knowledgeable sources tell Newsweek, Flynn flew to Egypt and Israel on behalf of X-Co/Iron Bridge. His mission: to gauge attitudes in Cairo and Jerusalem toward a plan for a joint U.S.-Russian (and Saudi-financed) program to get control over the Arab world's rush to acquire nuclear power. At the core of their concern was a fear that states in the volatile Middle East would have inadequate security for the plants and safeguards for their radioactive waste—the stuff of nuclear bombs.
Flynn appeared to refer to this trip in testimony before a House Foreign Affairs subcommittee, when he told lawmakers that he "just came from a trip — fairly extensive trip to the Middle East." However, Cummings and Engel say, "It does not appear that General Flynn disclosed this trip or any foreign contacts as part of his security clearance renewal process."
Flynn did disclose a trip to Saudi Arabia in October 2015, but the lawmakers said he "omitted key details." Flynn said he was in Saudi Arabia to speak at a conference, and traveled with a "friend." He reported that he stayed at the King Khaled International Hotel and his expenses were covered by a "work sponsor."
"Unfortunately, Gen. Flynn did not disclose … what type of 'business' he had in Saudi Arabia, who his U.S. 'friend' was who accompanied him, what 'conference' he attended, or which 'work sponsor' paid for his expenses," the letter said. Plus, congressional investigators could not find a hotel by that name.
Flynn's attorney declined to comment. It wasn't the only Flynn-related revelation he was asked to address on Monday. Reuters reported that government investigators are looking at the role of Bijan Kian, Flynn's former business partner, and whether payments the firm received from foreign clients were legal. And according to the Huffington Post, while serving as an adviser to Donald Trump's campaign, Flynn was earning tens of thousands of dollars advising a foreign cybersecurity company that sells surveillance technology that allows repressive governments to monitor journalists and dissidents.