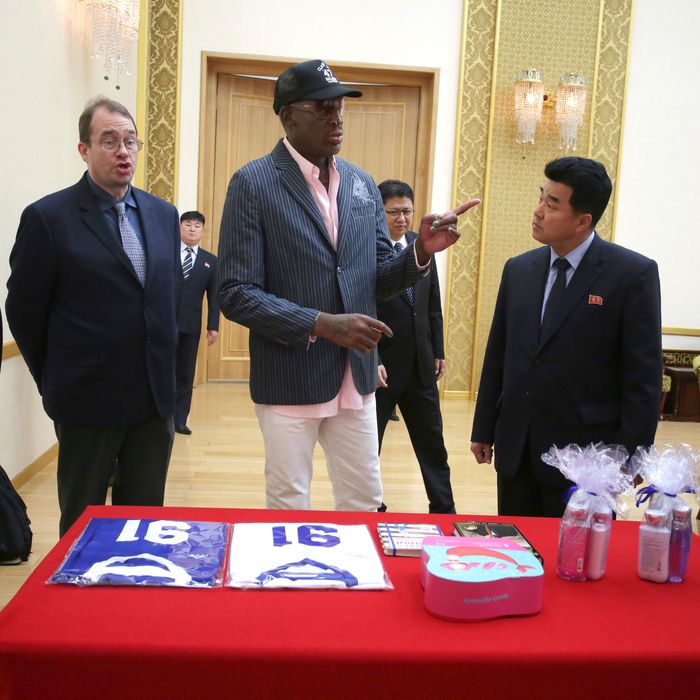 Dennis Rodman bearing gifts.
Photo: Kim Kwang Hyon/AP
So far, Dennis Rodman's weed-cryptocurrency-sponsored trip to North Korea appears to have been less eventful than his last visit to the isolated dictatorship. According to the AP, Rodman has been spending his time in Pyongyang hanging out with North Korean athletes and sightseeing. Meanwhile, U.S. officials have said that Rodman is traveling as a private citizen and that the Tuesday release of Otto Warmbier, an American student who was imprisoned in North Korea for 17 months (and sent home in a coma), was just a coincidence.

The onetime Celebrity Apprentice contestant has declined to say whether he's spoken to Trump about North Korea, but he did bring a piece of the president with him: a copy of The Art of the Deal, which he gave to the country's sports minister with instructions to pass it along to Kim.
Was the gift part of some message from Trump to Kim? Could be. On the other hand, Rodman also brought Kim "a copy of Where's Waldo? The Totally Essential Travel Collection, a mermaid puzzle, two sets of soap and two autographed jerseys," so maybe don't think about it too hard.