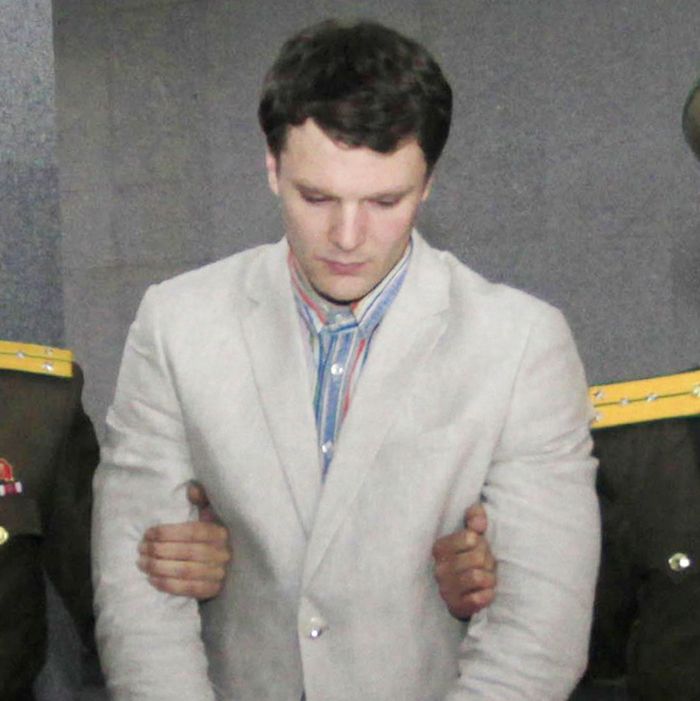 Warmbier before his 2016 trial.
Photo: Jon Chol Jin/AP
On Tuesday morning, when Secretary of State Rex Tillerson announced that American Otto Warmbier was on his way home from a North Korea prison, it was impossible not to notice that the surprise move came on the same day Dennis Rodman arrived in Pyongyang.
Had Kim Jong Un, a '90s basketball fanboy, traded a high-profile American prisoner for a chance to play NBA Jam with his boyhood hero?
No. Warmbier's release was secured by Joseph Yun, a special envoy on North Korea who went to Pyongyang and insisted that the 22-year-old, who is reportedly in a coma, be released on "humanitarian grounds," Reuters reports.
The process was set in motion after a meeting in New York last week, where North Korea's ambassador to the U.N. told Yun about Warmbier's medical condition. After several days to consult with President Trump and assemble a medical team, Tillerson had Yun and two doctors travel to North Korea to bring Warmbier home. On Monday, they arrived in Pyongyang and Tuesday Warmbier was on a plane back to Cincinnati.