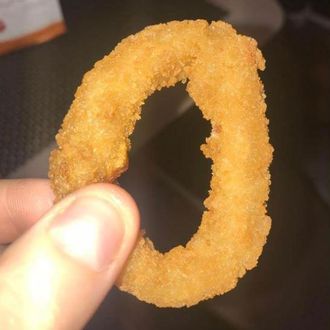 One of Lorde's supposed onion-ring ratings.
Photo: onionringsworldwide/Instagram
Dedicated sleuthing has revealed that international superstar pop singer Lorde, set to release her next album on Friday, momentarily had another important side gig: reviewing onion rings on Instagram. Tipped off by a fan, Newshub discovered that Lorde was following an account named @onionringsworldwide. The account's stated purpose: "Every onion ring I encounter, rated."
Shortly after Newshub contacted Lorde's people about the account, it disappeared into the ether. Luckily, not before the site nabbed some screenshots, which present a detailed case for the onion-ring account belonging to Lorde. None of the photos show a face, though.
According to Newshub, "The second onion ring consumed was eaten on board a charter plane from Tennessee to New York, and posted online on Tuesday morning (New Zealand time)." That timing would line up with the singer's performance at the Bonnaroo Music and Arts Festival. The account also reviewed an "onion ring consumed in Sydney … from QT Hotel — a 10-minute drive from Hordern Pavilion, where Lorde played two shows." According to the reviewer, Burger King's onion rings only rate one out of five (for what it's worth, I agree).
The account's follower list reportedly included Lorde-connected people like Jimmy Mac and Justin Warren. Supplementing that information, though absent from Newshub's report, is analysis of the likes on each of the four individual photos, which include double-taps from Siobhan "Eyeris" Carter (listed on LinkedIn as Lorde's assistant), and Amber Dreadon, the singer's makeup artist.
The account has now disappeared, though a parody has already popped up in its place. Lorde has yet to comment on her alleged onion-ring social-media empire.