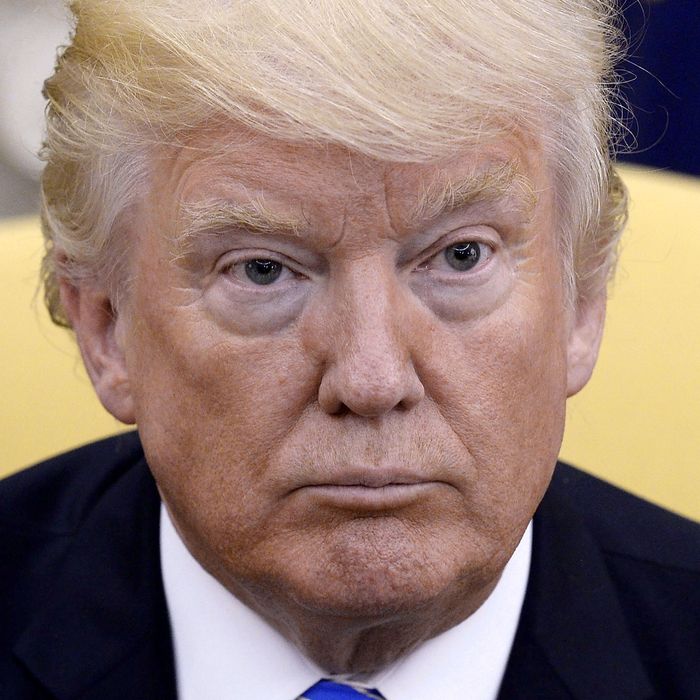 Make America a Lifeless Mass of Molten Rock Again
Photo: Pool/Getty Images
Sometimes, Donald Trump's Twitter account publishes major presidential announcements. Other times, it posts whatever the nation's most prominent Fox News addict just yelled at his television screen.
The media has often mistaken the latter for the former. And on first blush, the president's latest tweet about North Korea seems a likely candidate for overinterpretation.
On Monday, University of Virginia student Otto Warmbier died, days after being released from a North Korean prison in a comatose state. During a trip to North Korea in January 2016, Warmbier was detained at the Pyongyang airport on charges of trying to take down a propaganda poster. He was convicted less than two months later and sentenced to 15 years of hard labor. When Warmbier was returned to his family in Ohio last week, he was unable to see, speak, or acknowledge verbal commands.
"It's a total disgrace what happened to Otto," Trump told reporters Tuesday.
The president once argued that China was more than capable of coercing North Korea into abandoning its nuclear program and belligerent behavior — if Beijing only wanted to. But after listening to Chinese president Xi Jinping "for ten minutes," Trump "realized it's not so easy."
Still, the president had expressed confidence that China would do its best to discipline North Korea through diplomatic pressure. So, it's quite possible that Trump was watching news reports about the death of an American student at North Korean hands Tuesday, and felt compelled to express his disappointment with the limitations of China's efforts. Which is to say: He was just spouting off about cable news — not signaling that America has given up on seeking a diplomatic solution to its conflict with Pyongyang.
But if Trump's tweet is just mindless bluster, that hardly makes it less unnerving. In their joint military exercises, the United States and South Korea have rehearsed preemptive strikes against North Korea, ones designed to kill Kim Jong-un before he has a chance to press the proverbial button. Arms-control expert Jeffrey Lewis has warned that the implication of these exercises aren't lost on Pyongyang: Kim knows "he has to go first, if he is to go at all."
Just because savvy news consumers in the United States are comfortable assuming that Trump is merely talking trash doesn't mean that North Korea is. In April, the president suggested that the day Beijing's efforts to rein in Pyongyang failed would be the day that America took action against Kim Jong-un's regime.
"Well if China is not going to solve North Korea, we will. That is all I am telling you," Trump told the Financial Times.
The fact that the American president is an emotionally volatile reality star — who publishes his foreign-policy musings directly to the internet — has always been dangerous. In the context of a military standoff with a nuclear-weapons state, it may prove fatally so.