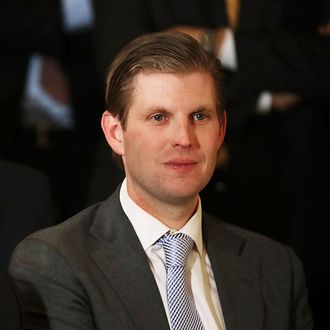 Eric Trump.
Photo: Chip Somodevilla/Getty Images
The not-so-charitable activities of the president's own Donald J. Trump Foundation are, by now, well-documented. But a new report in Forbes suggests the foundation belonging to the president's second son, Eric, might have been party to some questionable activities of its own.

Dan Alexander, writing in Forbes, found that the Eric Trump Foundation paid the family business hundreds of thousands of dollars for use of Trump Organization golf courses and other expenses — money that was supposed to go to fighting kids' cancer. This also shatters Eric Trump's pitch to donors: He has long maintained that the majority of all contributions went to children's cancer charities because his foundation used Trump-owned sites mostly free of charge. Except:
In reviewing filings from the Eric Trump Foundation and other charities, it's clear that the course wasn't free–that the Trump Organization received payments for its use, part of more than $1.2 million that has no documented recipients past the Trump Organization. Golf charity experts say the listed expenses defy any reasonable cost justification for a one-day golf tournament.

Additionally, the Donald J. Trump Foundation, which has come under previous scrutiny for self-dealing and advancing the interests of its namesake rather than those of charity, apparently used the Eric Trump Foundation to funnel $100,000 in donations into revenue for the Trump Organization.
The Eric Trump Foundation has legitimately raised million for kids with cancer, including nearly $8 million from his foundation alone since it was established in 2007. And in the early years of Eric's foundation, the overhead cost of his golf outings at Trump properties was fairly cheap — around $50,000 — so not totally free, but at least "in line with what other charities pay to host outings at Trump courses," Forbes explained, based on reviews of other organizations that hosted events there.
But after 2010, those costs more than doubled. And Donald Trump appears to be the reason behind the cost increases, after he apparently bristled at his own company's altruism. "In the early years, they weren't being billed [for the club] — the bills would just disappear," Ian Gillule, a former membership and marketing director at Trump National in Westchester told Forbes. "Mr. Trump had a cow. He flipped. He was like, 'We're donating all of this stuff, and there's no paper trail? No credit?' And he went nuts. He said, 'I don't care if it's my son or not — everybody gets billed.'" The costs continued to go up, from $142,000 in 2011, to the maximum of $322,000 in 2015. (Forbes documents more accounting issues in its full story, here.)
Based on the Forbes report — which got Eric Trump's cooperation up to a point — it appears that the president's second son may have misled Washington Post reporter David Fahrenthold last year. Fahrenthold, who won a Pulitzer Prize for his investigations into then-candidate Trump's philanthropy, asked Eric Trump in a July story about a 2014 tax filing that showed an $86,000 payment from his foundation to a Trump golf course. Eric Trump told the Post that the Trump Organization did not make money from his charity's outing. Or as Eric put it, "zero, zero." Fahrenthold has already followed up: