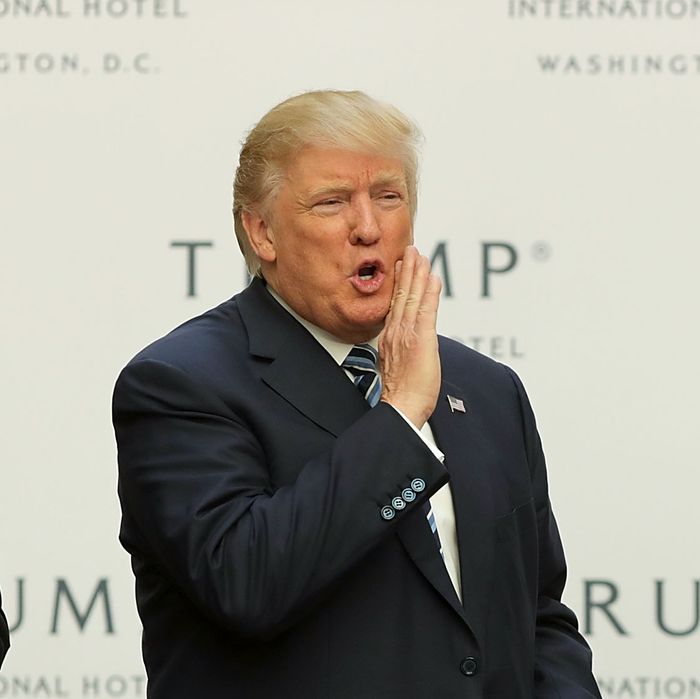 Trump and family at the October 2016 ribbon cutting for the Trump International Hotel in D.C.
Photo: Chip Somodevilla/Getty Images
The Justice Department has motioned to dismiss a lawsuit that accuses President Trump of violating the emoluments clause of the U.S. Constitution by continuing to own and earn profits from his businesses while in office. The lawsuit, filed days after Trump's inauguration by a legal watchdog group called Citizens for Responsibility and Ethics in Washington (CREW), aims to force Trump to divest from his businesses by arguing that he is constitutionally forbidden from accepting money from foreign governments while serving as president. A group representing hospitality businesses in New York and Washington, D.C., later joined the lawsuit, which also seeks to obtain Trump's financial records, including his long-awaited tax returns.
The president did not divest himself from his businesses after being elected, instead retaining ownership of the Trump Organization while leaving his adult sons in charge of running the business. Trump originally promised that the Trump Organization would not make any new business deals outside the U.S. and that it would forfeit any profits made from business with foreign governments. Trump promises a lot of things, however, and the details of how the annual profit forfeiture would actually happen didn't even emerge until last month. Per a Trump Organization flyer, the company said it will donate profits from foreign-government business to the U.S. Treasury, but will only estimate how much of that business it does and only calculate the amount using obvious payments from foreign governments since it will not seek to identify businesses or individuals affiliated with foreign governments. In other words, Trump's pledge to donate his company's profits from its dealings with foreign governments will not be adhered to by the Trump Organization in any realistically thorough way, and the Justice Department is now arguing that the president shouldn't even have to worry about that, anyway.
Countries like Saudi Arabia and Turkey have already paid for state-sponsored events at Trump's Washington, D.C., hotel since he became president; and right after Trump was elected, some foreign diplomats seemed to wholeheartedly believe that shifting their business to Trump properties would be beneficial to them in their future dealings with the Trump administration.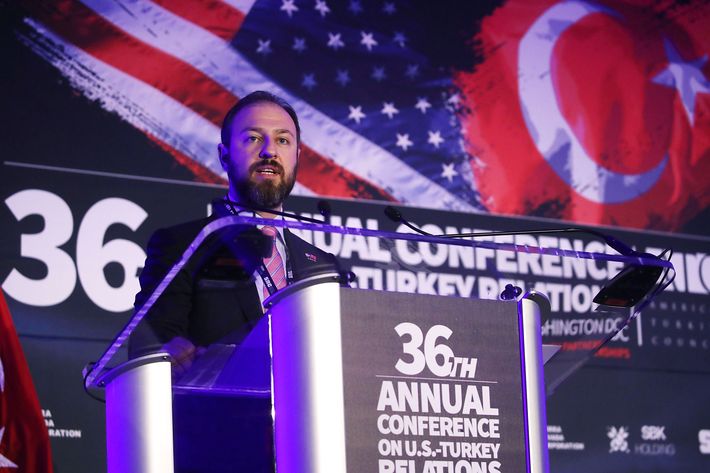 The emoluments clause, which was originally adopted to prevent U.S. ambassadors from being corrupted by foreign governments, bars holders of federal office from accepting gifts from foreign states, but it has never been the focus of a major court case. As Bloomberg points out, in addition to the fact that presidents aren't subject to the same ethics laws as other federal officials, it's also not clear that the clause even applies to presidents in the first place.
Nevertheless, Justice Department lawyers are now trying to get the CREW lawsuit thrown out for a variety of reasons, arguing that the emoluments clause does not apply to the money paid to Trump businesses from foreign governments for things like accommodations or event hosting at one of the Trump family's hotels, office rent, or membership fees at Trump-owned resorts. The clause was "not designed" to apply to fair-market commercial transactions "that a President (or other federal official) may engage in as an ordinary citizen through his business enterprises," the DOJ lawyers are contending. "Neither the text nor the history of the Clauses shows that they were intended to reach benefits arising from a President's private business pursuits having nothing to do with his office or personal service to a foreign power," they added, insisting that the payments are not gifts or economic benefits to the president, either.
They additionally cited the business dealings of early American presidents as precedent, arguing that around the time of the country's founding, federal officials were allowed to continue their private businesses, and that even George Washington sold crops to foreign countries, yet "there is no evidence of these presidents taking any steps to ensure that they were not transacting business with a foreign or domestic government instrumentality."
The DOJ also tried to make the case that CREW's claim of injury is unjustified, that the claims of the hospitality businesses who say they are being negatively affected by Trump's continued ownership of his company are insufficient, and that neither have the standing to bring the case against Trump, since even if his continued ownership of his businesses is illegal, only Congress should be able to determine that — not the courts. Furthermore, the Justice Department claims, the proposed injunction would violate the separation of powers, since dealing with the suit would impede the president's ability to perform his duties, and such an impairment cannot be forced upon one branch of the government by another.
In the meantime, CREW has vowed to carry on. "It's clear from the government's response that they don't believe anyone can go to court to stop the president from systematically violating the constitution," the group responded on Friday, declaring, "We heartily disagree and look forward to our day in court."