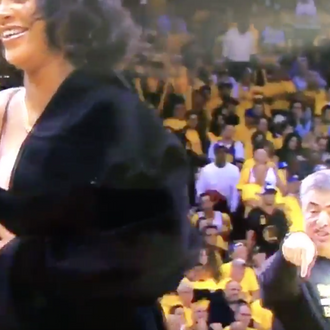 Not a great look.
Photo: @BaerFace
As the Golden State Warriors thrashed the Cleveland Cavaliers 113-91 during Game 1 of the NBA Finals, fans were getting heated, including Rihanna, who was vocal in her support of LeBron James. At one point, the ABC broadcast caught her shouting "Brick!" at Warriors wingman Kevin Durant as he took his free throws.
During the same game, she came out of her courtside seat to bow to LeBron James, and then dabbed at the Golden State hometown crowd.
But when she came out of her courtside seat, it was too much for one very passionate Warriors fan: Apple senior vice-president Eddy Cue. You can see Cue below, mouthing what looks like some, uh, blue language at Rihanna:
Cue, who ironically heads up Apple Music (along with a ton of other Apple services, including the iTunes Store, iCloud, and Siri), has his own history of jumping out of a courtside seat:
Cue says he wasn't actually yelling at Rihanna, but talking to someone named Marissa, who was sitting a few rows over:
It's unclear if this was Marissa Mayer, Yahoo's outgoing CEO. Regardless, it seems like an odd way to chat with someone?
Cue, meanwhile, is getting roasted on Twitter:
We're guessing that Apple Music probably isn't getting Rihanna's next exclusive. Rihanna, meanwhile, still seemed to enjoy the game: