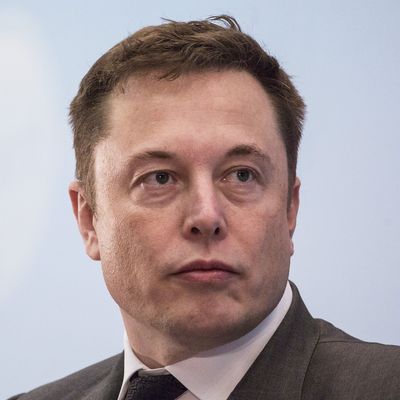 Elon Musk announced that he's no longer going to be an adviser to Donald Trump.
Photo: Justin Chin/Bloomberg via Getty Images
Yesterday, Elon Musk announced that if Trump withdrew the United States from the Paris climate agreement, the Tesla CEO would be forced to withdraw from the president's advisory council. "Don't know which way Paris will go, but I've done all I can to advise directly to POTUS, through others in WH & via councils, that we remain," Musk tweeted. Today, Trump announced that the United States would be doing just the opposite. So, true to his word, Musk tweeted that he'll no longer be advising POTUS.
Prior to today's announcement, Musk was firm in his decision to remain on the council. Even as his colleague, Uber's CEO Travis Kalanick, announced he'd be stepping down, Musk stayed onboard. On Twitter, Musk explained that he felt it was important to have the ear of the president, and said he pushed to have discussions regarding Trump's travel ban. (This, clearly, didn't do a whole lot to stop the Trump administration from pursuing the ban anyway.)
It seems that the environment, not the blocking of thousands of millions from entering the United States, was the thing that made Musk want out of his seat on the advisory council. Somebody call up the Titanic-style band that played in the Rose Garden prior to Trump's announcement to play him off.