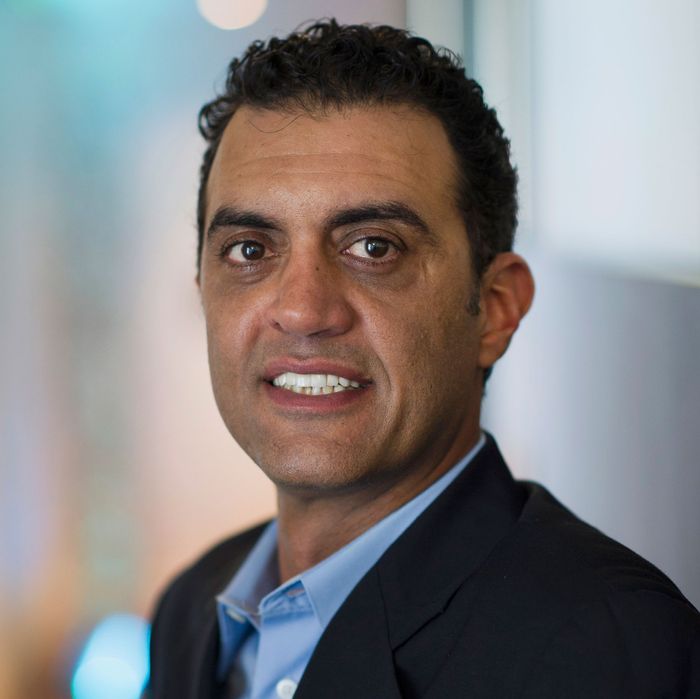 Emil Michael resigned on Monday after nearly four years at Uber.
Photo: David Paul Morris/Bloomberg via Getty Images
Last week, a report complied by former U.S. Attorney General Eric Holder on Uber's corporate culture and alleged sexual-harassment problems was presented, in private, to the company's board of directors. Results are expected to be shared with Uber employees on Tuesday. While little is currently know about the report's findings, it's safe to assume they were not good. (A different report, released last week, led to the firing of at least 20 employees.) So not good, in fact, that today Uber's senior vice-president of business, Emil Michael, announced his resignation, the New York Times reports.
Michael shared news of his departure with his now ex-colleagues via an email. David Richter, Uber's senior vice-president of strategic initiatives will be taking Michael's old role, he wrote. "Beginning with my first day at Uber, I have been committed to building a diverse Business Team that would be widely recognized as the best in the technology world: one that is welcoming to people of all genders, sexual orientations, national origins and backgrounds."
Board members reportedly agreed with all of Eric Holder's recommendations for fixing Uber, which earlier reports indicated appeared to include a call for Michael's resignation.Back in 2014, Michael made headlines after he suggested the company ought to do opposition research on the personal lives of journalists to "give the media a taste of its own medicine." In recent weeks, Kalanick's right-hand man was caught up in Uber's string of bad press, including visiting an "escort-style bar" in South Korea with Uber employees several years ago, and viewing the medical records of a woman in India who was raped by her driver, allegedly to disprove her rape and link it to Indian Uber competitor Ola. (The medical records were obtained and shown to Michael by Eric Alexander, an Uber exec who has since been fired.)
Despite his connections to these incidents, sources close to Michael say the former Uber executive blames the board of directors for putting him out to pasture, Bloomberg reports. He also believes that his close relationship with Uber's CEO ultimately hurt him, with sources saying he believes he was forced out as a lesser substitute for Travis Kalanick.

From Bloomberg:
Michael believes that a weak board of directors, a lax internal legal team, coupled with his tight friendship with co-founder Kalanick, ultimately led to his downfall — not the scandals, two people close to Michael said.

He places the blame on the directors, particularly investor Bill Gurley, for his removal, accusing them of not having the backbone to stand by him amid what he sees as largely mischaracterized and inconsequential controversies, the people said. Michael regrets not spending more time recruiting more experienced directors, and he has told people that Gurley put his reputation above the company's best interests.

Kalanick was also a part of both the South Korea trip and the India rape-report incident, and there have been reports that Kalanick is considering a leave of absence from his role, following his mother's sudden death in a boating accident that also injured his father. For now, Kalanick remains in his role as CEO of Uber, though as more and more of the top brass walk, or are pushed, out the door, his system of loyal Uber allies seems to be dwindling.
Here's the full text of Michael's exit email, via the New York Times:

Team –

Yesterday was my last day with Uber. Starting today, David Richter,
our current VP of Strategic Initiatives, will be the new SVP of Business.
David is an extremely talented leader and I have high confidence in his
ability to help drive the company forward.
I signed on with the company almost four years ago and it has truly
been the experience of a lifetime helping Uber become the fastest
growing company of all-time – spanning 75 countries with over 14,000
employees.

I am proud of our business team's part in contributing to the
company's overall success. We have fueled our growth by raising more
money than any other tech company in history; we completed one of
the most valuable mergers in American/Chinese tech history with the
Didi deal; and we have secured ground-breaking partnerships with
automobile companies all over the world to support our autonomous
vehicle efforts.

But I am most proud of the quality of the team we have built.
Beginning with my first day at Uber, I have been committed to building
a diverse Business Team that would be widely recognized as the best in
the technology world: one that is welcoming to people of all genders,
sexual orientations, national origins and educational backgrounds. I
am proud that our group has made so much progress toward these
goals and is a leader in the company in many of these categories. As
an Egyptian immigrant who was taken under the wing of a great
business leader like Bill Campbell, I have an abiding belief that we all
should pay it forward by ensuring that our workplace represents all
types of people.

Uber has a long way to go to achieve all that it can and I am looking
forward to seeing what you accomplish in the years ahead.
–
Emil Michael