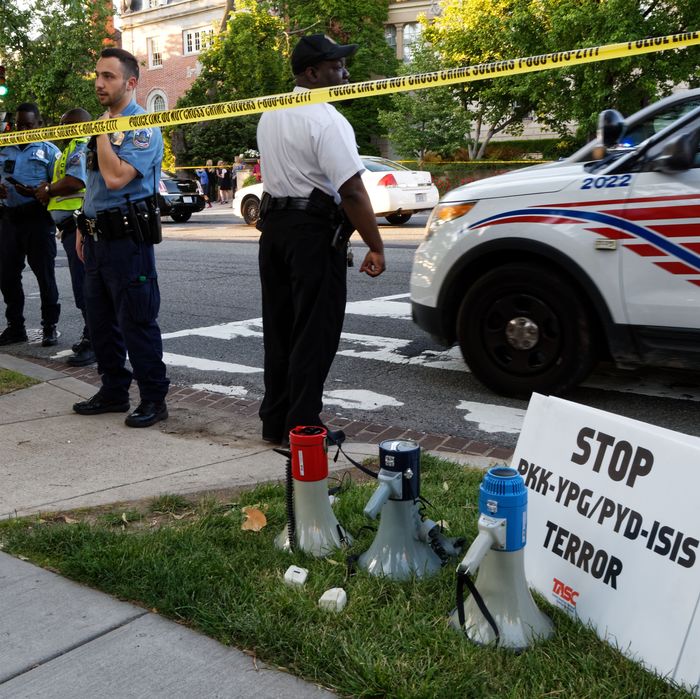 Photo: DAVE CLARK/AFP/Getty Images
Among the last things Turkish president Recep Tayyip Erdogan did during his May visit to the United States was calmly watch as around two dozen men — many of them members of his security detail — beat the hell out of a group of people demonstrating against him on D.C.'s Embassy Row. Videos of the incident show Erdogan's uniformed bodyguards pushing past a line of police officers in order to brutally punch and kick the peaceful protesters, at least nine of whom had to be hospitalized. Despite the severity of the assault, cops made few arrests on the scene, likely because of concerns about harming relations with Turkey. (According to the Washington Post, "The U.S. State Department ordered a federal police agency to release two presidential guards taken into custody, saying they had diplomatic immunity.") Now, a month later, American law enforcement is ready to charge the attackers, though most of them probably won't face justice anytime soon.
The New York Times reports that two suspects have been arrested: Sinan Narin of Virginia and Eyup Yildiri of New Jersey. Both of the men, who appear to be civilian Erdogan supporters, have been accused of felony assault. (Two unnamed Canadians have also been charged over their alleged participation in the violence.) Officials will also announce a variety of misdemeanor and felony charges against 12 of Erdogan's guards — all of whom returned to Turkey hours after the brawl. Turkey, which has claimed that the demonstrators provoked the fight, almost certainly won't extradite the men, but they could be arrested should they return to the United States.