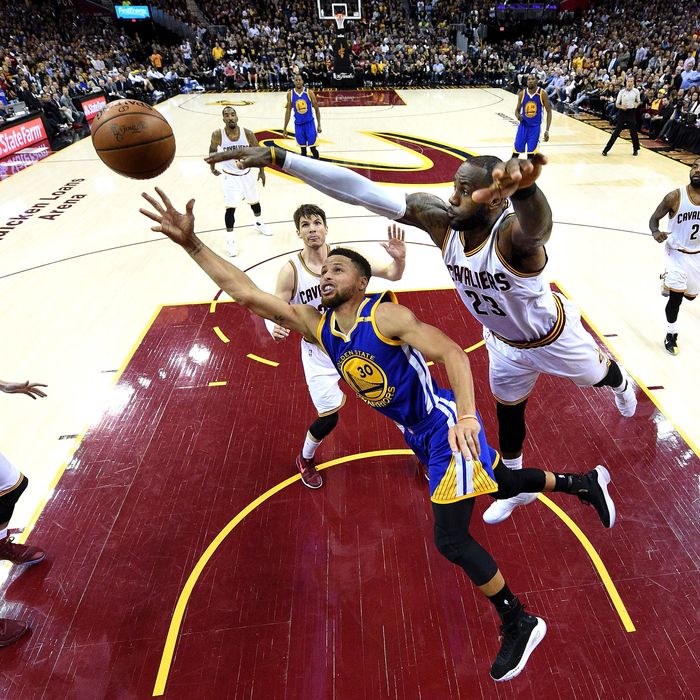 Like this ball, the Finals appear to be out of LeBron's reach.
Photo: Kyle Terada - Pool/Getty Images
Don't talk about James Comey this weekend. Don't worry about the ramifications of a hung parliament. Don't look for the latest poll from GA-6. And don't you dare log on to see what Trump tweeted.
After another exhausting political week, this weekend belongs to what really matters: sports. Because when the bullshit of reality starts to bring you down, a few hours of watching strangers run around can really perk you up. And there will be a lot of opportunities to do that this weekend.
NBA finals
Game four of the NBA finals is Friday night, and after taking a 3–0 lead, a Warriors championship seems like a foregone conclusion. But there's still drama left in this series. With a win tonight, the Warriors will become the first team to ever go 16–0 on their way to an NBA title. If Steph Curry and company can accomplish that, they'll have a pretty convincing claim to the title of greatest NBA team of all time. But if anyone can stop them, it's LeBron James and, as no one should need reminding, the Cavs were down 3–1 to the Warriors before they stormed back and won the title last year. If Cleveland wins tonight, it could be the start of greatest comeback in sports history. And if they don't, LeBron could be packing his bags for L.A. See, drama.
World Cup qualifying
After a dismal 0–2 start to its qualifying campaign for the 2018 World Cup, the U.S. Men's National Team is now comfortably on track to be in Russia next summer. On Sunday, the team will get a shot at revenge against archrival Mexico, which knocked off the U.S. 2–1 last November. A lot has changed since then. Most notably, American forward Christian Pulisic has emerged as the superstar the U.S. needs him to become. The 18-year-old scored both U.S. goals in Thursday's win over Trinidad and Tobago and has already made his prediction for Sunday's match at Mexico City's famed Estadio Azteca.
Stanley Cup finals
Though the Stanley Cup finals have made it to a game six, there hasn't been a nail-biter in the series. In the first five games, the average margin of victory was 3.6 goals. But things are bound to be more tense Sunday night in the first potential close-out game of the series. After a 6–0 rout in Pittsburgh, the Penguins will have to put away the Predators on the road if they want to avoid a game seven.
The Belmont Stakes
In a year without the possibility of a Triple Crown winner, no one except for hard-core horse-heads care about the Belmont. Still, if you're looking for two minutes of excitement Sunday evening, you could do worse.
French Open singles finals
There won't be much star power on the women's side of the French Open singles finals this weekend, with Simona Halep and Jelena Ostapenko battling for the title. It's a different story on the men's side. Rafael Nadal, who's owned Roland-Garros over the years, will take on 2015 champ Stan Wawrinka.

Baseball
There's not much exciting going on in the majors this weekend, but those who prefer metal bats are in for a treat. Eight best-of-three series will be played Friday, Saturday, and Sunday as teams battle for the right to go to the College World Series in Omaha.